Napa Valley Grille, Westwood Village's rustic, wine-country dining destination, and CAFE del REY, perched along the docks in Marina del Rey invite guests to celebrate National Drink Wine Day on Monday, February 18. Toast with a selection of 18 bottles of wine available for only $18 (bottle selections vary by restaurant) while enjoying Chef Taylor Boudreaux's new winter menus at Napa Valley Grille or Chef Daniel Roberts' Mediterranean cuisine at CAFE del REY.
The extensive wine list at Napa Valley Grille exclusively features California produced wines, with an emphasis on smaller, boutique wineries. CAFE del REY's wine list showcases an extensive selection from wineries around the world, with a particular focus on France varietals (Perrier‐Jouët) and California, as well as selections from Italy, Argentina, and emerging wine regions.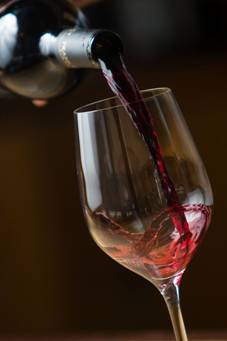 About CAFE del REY
Located in Marina del Rey, directly along the marina docks, CAFE del REY offers seasonal, Mediterranean-inspired cuisine from Executive Chef Daniel Roberts. With unparalleled views of the harbor and a naturally-lit, vibrant interior, CAFE del REY strives to provide diners with a casually sophisticated dining experience, representative of the best of what Southern California has to offer in both cuisine and ambiance. The 225-seat restaurant is open for lunch and dinner, with lunch service offered Monday-Friday from 11:30 a.m.-3 p.m., and weekend brunch 10:30 a.m.-2:30 p.m. Dinner hours are Monday-Thursday from 5:30-9:30 p.m., Friday and Saturday 5:30-10 p.m., and Sunday 5-9:30 p.m. Happy Hour is offered every day from 3-7 p.m., as well as 9 p.m. to close. Valet parking is complimentary during lunch. Both reservations and walk-ins are welcome. For additional information, please call 310.823.6395, or visit www.cafedelreymarina.com, www.facebook.com/cafedelrey, or www.twitter.com/cafedelrey.
About Napa Valley Grille
Napa Valley Grille is located in Los Angeles' Westwood Village neighborhood. It is open for lunch Monday through Saturday from 11:30 a.m.-3:30 p.m. and for dinner Monday through Thursday from 5:30-9.30 p.m.; Friday from 5-11 p.m.; Saturday from 5-11 p.m.; and Sunday from 5-9 p.m. Happy Hour is available from Monday through Saturday from 3 p.m.-7 p.m. and Reverse Happy Hour from 9 p.m.-12 a.m. Brunch is served on Saturday and Sunday from 11 a.m.-3 p.m. and Sunday Happy Hour is available from 3 p.m.-11 p.m. Valet parking ($4) and street parking are available. Reservations can be made by calling 310.824.3322. For more information on the restaurant, as well as special dinners and events, please visit www.napavalleygrille.com, find the restaurant on Facebook at www.facebook.com/NapaValleyGrilleWestwood, or follow on Twitter atwww.twitter.com/NVGwestwood.
National Drink Wine Day is Monday, February 18, 2013