55 bobby pins and 2 cans of hairspray is what it takes to get your glam on with Dinair at the 64th Primetime Emmy Awards held Sunday, September 23 at the LA Live Nokia Theatre in downtown Los Angeles. Better still is the refreshing breath of a thousand air-kisses from the Dinair airbrush signature at-home makeup kit that delicately paints your eyes, nose and face giving you the Red Carpet-ready look of the Stars.
The lovely, talented and ever-so-fun Dina Ousley, creator and founder of Dinair and lover of all things PINK, like me!, is a breath of fresh air herself. With her blonde locks intertwined with subtle bling and energy that soars to the moon and back, Dina has created a brand of beauty revered by celebrities yet made with the modern woman in mind. Check out the at-home airbrush makeup machine… it's the size of a #SOBikini petit filet mignon and hums with the tenderness of a fluttering hummingbird. The Dinair airbrush feels so delicious painting a palette of hand-selected colors onto the skin it makes you want to airbrush for hours! And though you could airbrush with Dinair for hours, there is no need as the makeup creates a flawless, non-cakey sheer cover on your skin in minutes.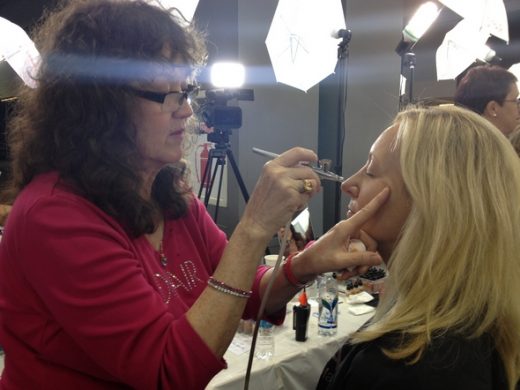 The Makeup
My Cinderella-esque Emmys night experience began with my first stop at the Dinair stage makeup studio. Bright white makeup studio lights, over 30 hair and makeup stations, hand-dyed vintage-style hair pieces, rocking music of the 80's, I stepped into a pink Dinair glamour paradise and felt right at home! The friendly Dinair team whisked me into the makeup chair for my first airbrushes of what I have termed, air-kisses. So relaxing is the Dinair airbrushing you feel as if you are getting a light spa treatment and could take a nap. But no naps were in order for this star-studded evening and walk down the Emmys Red Carpet.
My Dinair airbrush makeup artist was a cute, sweet gal named Connie, from Texas. Connie explained with her Southern charm some of the secrets behind the Dinair products, one key secret… Dinair makeup is so light because it is silicone and paraben free making it naturally lightweight. Starting on fresh, clean skin, Connie sprayed the makeup in a super-fine mist creating flawless coverage that will lasted all day.
Designed to bring out the artist in everyone, Dinair airbrush makeup comes in little bottles of color. A little dab will do ya as Connie hand-selected colors for me and dropped a few drops right into the airbrush makeup cup and the air-kisses began! Minute by minute, my uneven skin tones were airbrushed into an even palatte of naturalness which set the stage for the lavendar eye trio and rose' cheeks that followed. To my surprise, eyeliner and eyebrows were also air-kissed with color eliminating the need for a thousand makeup products… a dream for an on-the-go gal!
The Hair
Every girl knows a glamour night out is a well-crafted combo of makeup and hair. For my Dinair Emmys experience, Dina hand-dyed a pink hair piece to accentuate my shimmering pink St. John evening gown. The Dinair hair-duo of Carol and Lisa went to work on my blonde locks, curling, teasing, and swooping them into an up-do where the shocking pink hair piece was intertwined through the help of what seemed a thousand bobby pins. Although my personal style is a bit more wispy, sexy, curly and free, the Emmys theme was a vintage red rose petal affair of "Rhapsody in Red" which was celebrated by Carol and Lisa's choice of a more sophisticated, classic film hairstyle. The pink hairpiece was placed atop my blonde up-do and caressed into swirling curls creating a blend of pink and blonde so natural looking my daughter thought I had dyed my real hair pink!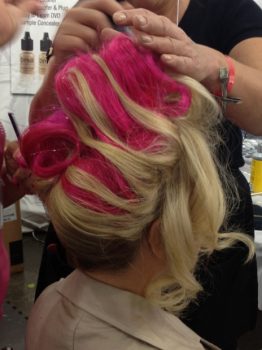 The Red Carpet
After Connie put the finishing air-kisses on my airbrushed makeup, the time had arrived to step into my St. John gown and be whisked to the Red Carpet in my "Cinderella" carriage which was a fun walk from the Governor's Ballroom to the Red Carpet at LA Live. I arrived just in time to make my grand entrance with Alec Baldwin and his beautiful new wife, Hilaria, Nicole Kidman and Keith Urban, Ellen Degeneres and Portia de Rossi, Michael J. Fox, Matthew Perry, Julianne Moore, Julia Louis-Dreyfus, Julianna Margulies and a plethora of other TV greats. One of my favorite on-the-Red-Carpet moments was bumping into fellow high-school student-turned reality TV host, Ty Pennington of Extreme Makeover:Home Edition. I quickly joked with Ty that I remember the famous Pennington Brothers and Ty laughed that here we both were meeting on the Red Carpet at the Emmys. I politely introducted myself to another Georgia native, Inside Edition's Deborah Norville and got a wave of air-kisses from Access Hollywood's Billy Bush whom I have had the pleasure of interviewing as a guest on my Bikini Lifestyles "Wine Dine and Workout" radio program on AM 790 KABC.
My show, Bikini Lifestyles "Wine Dine and Workout", which I co-host with Denice Fladeboe, airs on PBS television network around the country. I was honored to be interviewed by PBS SoCal about our healthy lifestyle show. When asked for a #SOBikini tip by PBS SoCal, I immediately gave the Red-Carpet-Ready tip to eat smaller meals more frequently and include protein at every meal when getting in Red Carpet shape and that skipping meals is a no-no. After a walk down the Red Carpet "step and repeat", I felt blessed with confidence that after an hour of schmoozing in 90+ degree heat, my Dinair hair and makeup still looked cool as a cucumber.
The 64th Primetime Emmy Awards
Emmy Awards attendees welcomed the refreshing airconditioning upon entering the Nokia Theatre set with a majestic golden Emmy stage.  Hosted by Jimmy Kimmel, among the top Emmy nominated shows were Modern Family, Mad Men and Downtown Abbey, claiming 58 nominations for PBS, public television, and actors Julie Bowen, Julia Louis-Dreyfus, Julianne Moore, Michelle Dockery, and Louis C.K., Ty Burrell, Alec Baldwin, Hugh Bonneville, and Jon Hamm.
One of the best parts about attending the Emmy Awards was the nostalgic television clips from the early Emmy Awards that were broadcast in the Theatre during the network commercials.  Attendees re-lived Emmy moments from Mary Tyler Moore, Steve Martin, Phyliss Diller, Tim Conway and so many more wonderful past-Emmy award presenters and winners.  Thanks to my Dinair seats, I was able to take in every moment including the Tracy Morgan on-stage "flop" that resulted in him being carried off stage… on purpose!  Closing out the Emmys was a standing ovation for Michael J.  Fox who continues to flourish as an actor over 20 years after a diagnosis of Parkinson's disease.  To quote Fox, "I'm steady as a rock", who attended the Emmys with his beautiful wife, actress Tracy Pollan.
The Governors Ball
Over 4,000 elegantly fashioned Emmy Awards supporters, nominees, presenters, and winners were welcomed to a "Rhapsody in Red" star-studded gala evening at The Governors Ball. A usually massive, hard, cold, steel structure, the West Hall of the Anaheim Convention Center was transformed into an elegant, romantic embrace of red by the Award-winning event production company, Sequoia Productions. Helmed by the talented and gorgeous Cheryl Cecchetto, Sequoia Productions has been transforming ballrooms for the Emmys Governors Ball for over fifteen years. When asked how she out does each theme year after year, Cheryl said, "Each year is a spectacular adventure, no Emmys is ever the same!". Explosions of red awed guests with stylized rose petals suspended overhead, over 200,000 fresh-cut red roses adorned guest tables, and this year, for the first time, Emmy winners were invited into the Winner's Circle where their Emmy was engraved on-site. Signature cocktails including "The Emmy" from Grey Goose and wines by Beaulieu Vineyards were a delicious prelude and accent to dinner presented for the seventeenth year by Patina Restaurant Group catering by Joachim Splichal. Executive Chef Alec Lestr led a team of well over 200 chefs and 700 servers for this spectacular dinner of Smoked Salmon Avocado Sphere, Roasted Tenderloin with Mushroom Risotto Fries, and White Chocolate Raspberry Cake with freshly picked raspberries, raspberry sauce, and raspberry macaroon lollipops.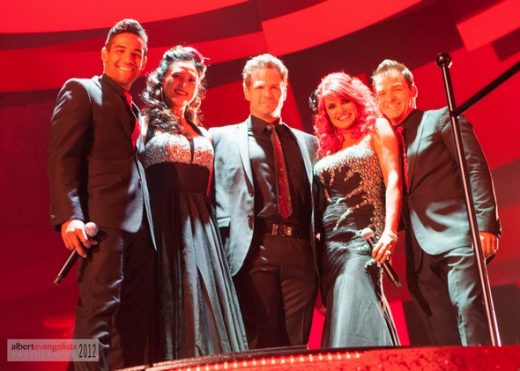 Performing on a swirling rose petal-esque center stage were The Red Hot Band with special performances by Alizma and The Red Hots. How did The Red Hots Band and Red Hots look so fabulous? The Dinair team created glamorous vintage 60's style looks with hand-dyed hair pieces and the signature Dinair airbrush makeup. After an hour under the heat on the Red Carpet and three-hour Emmys presentation, my pink Dinair up-do and airbrush makeup looked as fresh as the red roses adorning the tables leaving me feeling confident, sexy, and sassy.
When the clock struck midnight, my gown, Dinair hair and makeup still aglow, I made my way to my convertible Volkswagen Beetle Turbo parked in the VIP parking underneath the ball of balls. My Cinderella-esque Emmys night was over but the excitement, joy, and glamorous feeling will reside in me forever.
Special thanks to Dinair, Dina Ousley, Kip & Associates Public Relations, Sylva Zakian, Mallorie Sheldahl , my personal photographer and videographer, Albert Evangelista, Cheryl Cecchetto and her team at Sequoia Productions, Talya Mirkin, Wagstaff Worldwide, and Christina Canseco, PMKBNC. To order your Dinair airbrush makeup kit and for more information about Dinair, visit Dinair at www.airbrushmakeup.com
Full photo gallery here:

Video coming soon