TV is a huge part of our lives. The perfect opportunity to celebrate along with the stars is to tune in when the 64th Primetime Emmys Awards airs on Sunday, Sept. 23 4pm PT / 7pm ET on ABC
Produced by Sequoia Productions for the fifteenth year, the Emmys Governor's Ball ~ a Rhapsody in Red ~ theme will welcome guests with a romantic, dramatic embrace of larger-than-life stylized rose petals floating high above the ballroom floor and over 200,000 freshly cut red roses bringing romance and awe to the dinner tables.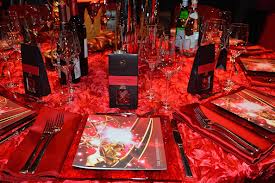 After the awards are presented, celebrities will enjoy a gala evening at the Governor's Ball ~ a Rhapsody in Red. Back for his seventeenth year as Chef for this exclusive Hollywood tradition, Chef Joachim Splichal and his Patina Restaurant Group team will wow guests with a savory menu and this year, you and your guests can dine in Emmys-style.
To embrace the celebrity in you, Cheryl Cecchetto, owner of Sequoia Productions and Chef Joachim Splichal have created, for the first time ever, At-Home Emmys Party Tips and Recipes. Cheryl and Sequoia Productions have a true talent for wowing celebrity guests and you can too, in your own home:
INVITATIONS
1. Send out an Emmys-themed Evite card to set the tone. Use Emmy art for inspiration.
ENTERTAINMENT
2. Invite your guests to choose Primetime Emmy winners before the show via the Emmys party ballot that the Television Academy posts on their website www.emmys.com. The guest who selects the most winners correctly wins a prize. Or, have ballots for guests to fill out during the Red Carpet preshow hors d' oeuvres. Exchange ballots, grade each other and the winner receives a prize.
a. Prize Ideas:
* A TV Series on DVD
* Cookbook by Chef Joachim Splichal, Founder of Patina Catering, the exclusive caterer of the Governor's Ball
* A bottle of Beaulieu Vineyard Georges de Latour Private Reserve Cabernet Sauvignon, the Official Wine Sponsor of the Primetime Emmys Governor's Ball
* A bottle of GREY GOOSE® Vodka Cherry Noir, the Official Spirits Sponsor of the Primetime Emmys Governor's Ball
* Red rose floral arrangement
3. Create a playlist comprised of your favorite TV show theme songs. Great way to set the tone. The music will keep everyone energized and connected. Have some fun, age yourself.
ATTIRE
4. Wear black tie formal attire and feature the color red. Have your guests dress up to make the night even more special. Rent The Runway is a great place to find designer dresses for a fraction of the cost. http://www.renttherunway.com/
5. For a younger crowd, ask guests to come dressed as their favorite character on TV and offer prizes for most creative, funniest, or most dramatic.
FOOD & BEVERAGES
6. Design a menu inspired by your favorite Television shows or Nominees. We suggest "30 Rock Shrimp Quesadillas" and "Boardwalk Empire Cookies"
7. If you are ambitious, go online to www.emmys.com and prepare one of Patina's featured recipes that will be served at the Governor's Ball.
8. Nothing breaks the ice like a specialty cocktail honoring the night. Go ahead; be your own Grey Goose, the Official Spirit Sponsor of the Governor's Ball "mixologist" and serve up this year's Grey Goose Cherry Noir Emmys cocktail (recipe below)
9. Definitely serve the fine wines of Beaulieu Vineyard, the Official Wine Sponsor of the Governor's Ball. For the wine lovers in the crowd, think about offering a wine tasting bar. The Governor's Ball features a central wine bar featuring 8 great wines from the BV portfolio. Great for strolling, sipping and chatting.
DECOR
10. This year's theme is RED, so think 100% red. Experiment with red table cloths with different patterns and textures. For décor, use red roses and place them in various different vases to produce arrangements adorned with candles, candles, and more candles. Add any red items from your home to accent your décor.
PARTING GIFT
11. Prepare home baked cookies in the shape of an Emmy or the letters "E-M-M-Y" wrapped with a red bow to tie in with the theme.
Grey Goose Cherry Noir Emmys Cocktail
1 1/2oz. Grey Goose Cherry Noir
1oz. St. Germain
1/2oz. Fresh Lemon Juice
1/2oz. Pom Juice
Top with Champagne
Glass: Champagne Glass
Garnish: Black Cherry
*Combine all ingredients in shaker (EXCEPT CHAMPAGNE). Vigorous shake and strain in champagne glass.
Now top with champagne. Garnish with black cherry.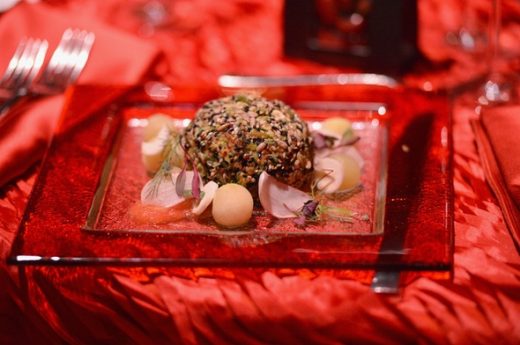 Inspired by the Patina Group Culinary team of Chef Joachim Splichal, Executive Chef Alec Lester, Executive Culinary Director Gregg Wiele, and Executive Pastry Chef Philippe Muze, dine in star-studded style with:
First Course –
Smoked Salmon and Avocado Salad with Heirloom Tomato Vinaigrette
Suggested wine pairing: Beaulieu Vineyard Carneros Chardonnay or Beaulieu Vineyard Coastal Estate Chardonnay
Serves 4
1 cup Scottish quality salmon cold smoked salmon, thinly sliced
2 Hass avocados, peeled, halved and sliced
1/2 cup Hearts of palm, sliced into 1/8" rings
1/2 cup hot house cucumber, peeled, seeded, cut into 1/4-inch half moons
1/2 cup Granny Smith apples, peeled, cored and cut into 1/2-inch dice
1/2 cup red radish, sliced into thin rings
1/2 cup heirloom tomatoes, ripe, cut into 1/4-inch dice
1/4 cup white balsamic vinegar
1/4 cup extra virgin olive oil
1/2 teaspoon sea salt
1/2 teaspoon fresh ground black pepper
Prepare the vinaigrette by combining the diced heirloom tomatoes, olive oil, vinegar, salt and pepper. Set aside.
To serve, arrange smoked salmon and avocado slices on each of four salad plates. Garnish with the hearts of palm, cucumber, apple and red radish. Drizzle with tomato vinaigrette just before serving.
Chef Tips
• Substitute canned hearts of palm if fresh is unavailable.
• Purchase your smoked salmon pre-sliced and without bones to save time.
• Precut your vegetables up to 1 hour before serving. Remember to toss your cut apples with fresh lemon juice to prevent browning.
• This vinaigrette is a chunky "broken" vinaigrette which means the oil and vinegar are not intended to be emulsified (thickened).
Entree
Roasted Beef Tenderloin with Balsamic Grilled Portobello Fries
Suggested wine pairing: Beaulieu Vineyard Georges de Latour Private Reserve or BV Rutherford
Serves 4
4 each 8-ounce Filet mignon steaks, pan seared and oven roasted to medium rare
4 each large Portobello mushrooms, cleaned, de-stemmed and cut into 1/2-inch strips
3/8 cup aged balsamic vinegar
3/8 cup extra virgin olive oil
1 pound Baby spinach, lightly sautéed in 1 tablespoon olive oil
1 pound sunchokes, peeled and poached in milk until fork-tender
1/4 cup butter, unsalted
1 teaspoon sea salt
1 teaspoon fresh ground black pepper
Prepare the mushrooms:
Marinate Portobello strips in balsamic vinegar and olive oil for 30 minutes. Season with salt and pepper. Grill over medium fire until tender and grill marks form. Keep Warm. Reserve marinating liquid.
For the sunchokes:
Remove sunchokes from poaching milk. While still hot, puree the sunchokes in a blender with butter, salt and pepper. Slowly add enough of the poaching milk to form a silky puree consistency.
To serve:
On four dinner plates, arrange steak, sunchoke puree and grilled Portobello fries. Garnish with the wilted spinach and drizzle with remaining mushroom marinade.
Chef Tips
• After roasting your steaks, let rest for at least 8 minutes before serving to let the juices settle.
• The sunchoke puree should have the consistency somewhere between mashed potatoes and béchamel sauce. Adjust the amount of poaching milk you add to the blender to achieve the desired consistency.
• Spinach only takes seconds to cook properly. Be sure to preheat the pan and take care not to overcook.
Dessert Chef Tip:
• Serve White Chocolate Raspberry Sponge Cake… at home version, cut sponge cake into 4-inch in diameter rings. Use a vanilla syrup to stack the rings, 2 to 3 high. Pour white chocolate mousse over the top of the cake and garnish with fresh raspberries. Use fresh raspberry sauce and mint sauce as decorative additions to your plate along with fresh picked raspberries.
• Raspberry macaroon lollipops can be purchased at many local bakeries. These make a wonderful secondary feature to the overall dessert.
Visit EMMYS.com for all details and a full list of nominees and presenters. Tume in Sunday, September 23, 2012 at 4p PT / 7p ET on ABC!
by The Bikini Chef®
Tune in to Bikini Lifestyles "Wine Dine and Workout" Saturdays, 7p PT on AM 790 KABC radio; LIVE streaming at KABC.com Check your local TV listing for Bikini Lifestyles on PBS and AMERICA ONE networks in your town.