8 Positives of Discipline – A little goes a long way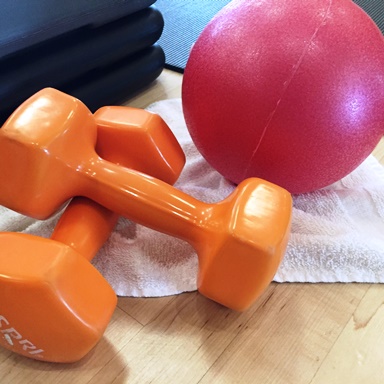 Wednesday mornings bring my favorite workout class at the gym. The class is called Strictly Strength and it starts at 8am. I hate being late because the warm-up track is all legs and butt and what woman doesn't want to benefit from that?! Each week after class I go straight to Women's Bible Study. As we know, women love to eat and the buffet table at bible study is no exception. The table is filled with fattening foods like egg and sausage casserole, Blueberry Cobbler, donut holes, Bear claws, and Lemon Poppyseed Scones. There are a few healthier options like fresh blueberries, strawberries, melon, hummus, and every now and then, hard boiled eggs.
One morning, my Strictly Strength class was particularly hard. The muscles in my arms were still burning way into the 2-hour bible study session. A close friend of mine had made her way to the buffet table and sat down next to me with a plate full of blueberry cobbler, a bite of bear claw, a donut hole, a bite of the egg and sausage casserole and on my plate was a hard boiled egg, raw almonds and fresh fruit. My friend says to me, "This cobbler is really good. You should try a bite." I kindly said, "No, thank you. I'm good." She persists, "Aw, come on. Just try it. It's good." I kindly replied, "No, thank you. I don't care for any." She emphatically urges, "Just try this one little berry right here with some of the stuff on it!" I looked straight at her and said, "I just had a super hard workout. I don't need to blow it with one silly bite of cobbler." Would you believe she raised her voice, sounded a little offended, and said, "Oh for gosh sakes, it's just one bite, Susan!" I still refused.
I could have easily had one bite. Would that one bite have ruined my diet for the day? Not necessarily. Keyword – necessarily. You see, rationalizing one bite here and one bite there leads to another bite here and another bite there. Rationalizing one bite sidetracks your psyche. You've already given in here… it's easy to think, "I guess I've already blown it for the day. What does the rest of the day matter?" It's easy to rationalize one bite. It's not easy to STOP rationalizing one bite.
As hard as it was to stand up to my friend and say, "No, I don't want any," it felt good to politely stand up for my feelings. Exercising that wee bit of discipline helped me stay on track the rest of the day. Does this mean I NEVER eat sugary desserts? No! But, I don't eat them every day. And, I don't need to waste positive health choices on a silly bite of cobbler at bible study.
Exercising discipline can mean saying "No" to a cocktail, a plate of nachos, a bad relationship, staying up late… a whole slew of things. Exercising discipline usually means opting for something that is good for us over something that is probably not in our best interests. Even small actions have a big impact. Saying "yes" to what we instinctively know is good for us is empowering and spills over into all areas of our lives. Saying "yes" to the good stuff helps you achieve your life goals.
8 Positives of Exercising a Wee Bit of Discipline:
1* Improves mental attitude
2* Is empowering
3* Promotes positive self-esteem
4* Is rewarding for your health
5* Helps you achieve your goals
6* Makes it easier to say "No" again
7* Makes you feel stronger inside
And, perhaps the most important positive of all,
8* Sets a good example for others
Exercise a little discipline. You'll always be glad you did!