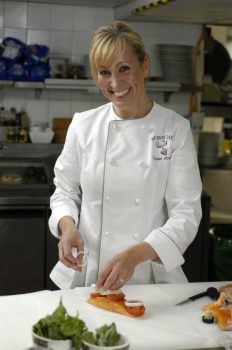 THE BIKINI CHEF® was created by Susan Irby, an AWARD-WINNING TELEVSION HOST, RADIO HOST, AUTHOR, and PUBLIC SPEAKER
Susan Irby, CFNS, Certified Food Healer, Award-winning network television host and radio personality
"Successful people have courage, focus, persistence, and motivation. Apply these qualities to career, food, and fitness for a rewarding, healthy lifestyle." – Susan Irby
Susan Irby is one of the nation's foremost experts in fitness nutrition and recipe development, an accomplished public speaker and media personality. Her 17 years in the culinary industry, the past 14 in health, fitness and wellness, have earned Susan recognition as the leading lifestyle wellness and weight loss expert.  Through her trademark 3-prong approach, Susan empowers others to sustained, lifelong health and weight management through her practical, no-fail approach to spiritual health, nutrition, and an active lifestyle.
Susan is author of 9 recipe and wellness books including Substitute Yourself Skinny, ranked twice by FOXNews.com in the Top 10 Best Diet Books and Amazon best-selling book, The Complete Idiot's Guide Quinoa Cookbook. Susan's books and recipes have been featured in prestigious media outlets such as FIRST for Women, Self, The New York Post, and numerous other media outlets both in the USA and internationally acclaimed outlets such as The Mail on Sunday and BBC Radio. She is host and producer of The Bikini Lifestyles® Show which was awarded "Best Health and Fitness Television Program" by The TASTE Awards and also aired as a weekly radio program for 5 years on KABC Los Angeles. A monthly contributor to Max Sports and Nutrition magazine for over 5 years, Susan's recipes, health and active lifestyle expertise are highly sought after amongst health, wellness, and lifestyle publications and organizations in the USA and abroad.
Internationally recognized as a leader in the "food as healing" approach to a healthier lifestyle, Susan has worked with noted schools, colleges, professionals, families and national grocery markets to share how to transform their lives through spiritual wellness, diet and an active lifestyle. Among them, Los Angeles Unified School District, Cooking Up Change, American Federation of Teachers, Women Chefs and Restaurateurs, grocers such as Whole Foods, Gelson's, and Dole foods. Susan has appeared on FOX11 Good Day LA, ABC7, CBS2, KCAL9, NBC, and numerous syndicated radio shows, international conferences, national magazines, newspapers, and websites.
An award-winning television and radio host, Susan has interviewed culinary and fitness icons and celebrities such as Venus Williams, Billy Bush, Wolfgang Puck, Giada De Laurentiis, Sara Moulton, Chef Art Smith, Gene Simmons, Bill Engvall, Def Leppard's Phil Collen, Duff Goldman, Barbara Fairchild, Nancy Silverton, Michael Chiarello, Cat Cora, Scott Conant, Ted Allen, Donna Karen, Denise Austin, Olympic Gold Medalist and LA Sparks' DeLisha Milton Jones, Olympic Athletes Jamie Komer and Katie Uhlaender, Atlanta Falcon Tony Gonzalez, Cincinnati Bengals' Coach Chip Morton, Cincinnati Reds Coach Matt Krause, reality TV star Lisa Vanderpump, teen star Reed Alexander, and more culinary, fitness and celebrity stars.
Susan Irby holds a degree in Journalism from the University of Georgia, is Certified in Food Healing, and is a Certified Fitness Nutrition Specialist. She originally developed her culinary skills by working with master chefs in Italy and France. Susan is the creator of and driving force behind the successful brand, The Bikini Chef® which promotes foods that heal through "figure flattering flavors".  She is the creator, producer, and host of The Bikini Lifestyles® Show. Susan has written and developed over 2,500 recipes with more to come.
Where bikini cooking all began… Southern-born Susan Irby learned from the best, her mom! "My mom was, and still is, a great cook. My love for cooking came from her and my grandfather. At the age of 2, my grandfather introduced me to chefs and we toured restaurant kitchens for fun." says Susan. "It's no wonder I love everything food." As the bikini cooking story goes, my family water skied on Lake Martin, Alabama from dawn til dusk. We'd be starving and end up cooking in our bathing suits. When I told these lake stories to guests at cooking class, they instantly nicknamed me the bikini chef and The Bikini Chef® brand was born."
After teaching southern cuisine from my first book, Cooking With Susan, Southern Family Favorites, guests wanted to know what I ate on a regular basis that helped me to stay fit and trim. "My shift from cooking southern comfort foods turned toward creating comfort foods that are healthy and still delicious. I was cooking "bikini" before it was hip," exclaims Susan. "Fans kept calling me The Bikini Chef®. The name stuck and has become the signature of my trademark Bikini Cuisine® which emphasizes delicious, metabolism friendly ingredients that nourish and heal the body while burning fat."
Restaurant trained in Europe with Italian Chef Francesco Berardinelli and French Master Chef Marc Meneau, Susan has shared the culinary stage with Master Chef George McNeill, Ming Tsai, Todd English, Rocco Dispirito, and many well known chefs and celebrities.
Susan is an avid runner and completed her first marathon at 50 years of age.  With 3 half-marathons under her belt, Susan has a goal of successfully completing 2 more marathons by age 55.  She loves her rescue dog, Homer, and living a healthy, active lifestyle in Southern California. One of her fondest annual trips to this day is to Lake Martin, Alabama where bikini-cooking all began. As The Bikini Chef® it is her utmost desire for God to use the talents He has blessed her with to help others live a healthy, full, and pain-free life.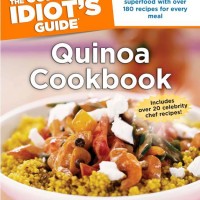 Books by Susan Irby, creator of The Bikini Chef®:
The Bikini Chef® Diet
The Clean Separation
The Complete Idiot's Guide Quinoa Cookbook
Boost Your Metabolism
$7 Pressure Cooker Meals
Substitute Yourself Skinny
$7 Healthy Meals
$7 Quick and Easy Meals
Cooking With Susan, Southern Family Favorites
Contact:
Theatrical / Commercial Agent: Jackie Stander
(818) 905-7000
jackie@scottstander.com
Direct: Susan Irby
(310) 753-3750
susan@thebikinichef.com
The Bikini Chef®  Bikini Cuisine®   Bikini Cuisine Power Snax®  Bikini Lifestyles® are all registered trademarks.