Why I Almost Cried When I Met Giada
It was 1995. I was living in Los Angeles taking acting classes. For two years, several times a week, our class of 30 or so students of all ages would come together for hours of intensive acting instruction in the Meisner technique at the Joanne Baron DW Brown Acting Studio in Santa Monica. It didn't matter that we were a mixed bag of 20-something aspiring actors, lawyers, moms, business professionals, or floating career unknowns. We each had a common interest – a passion for creative expression.
Scene after scene, our coach, DW Brown, pounded out our inner craft to mold us into intuitive, courageous artists set to give compelling performances on a stage yet to be determined. For some it was about the role, for many it was about expression and techniques that we could carry into our daily lives. For two years, we worked diligently together each week and were awarded our Theatrical degree at a moving ceremony where famed director, Sam Raimi spoke and inspired.
During our two years together, our class naturally formed a bond that will hold us together forever. Many of us still hold a tight bond today, nearly 20 years later. But the bond I didn't expect was that of Giada De Laurentiis. You see, I'm not a keeper of names. It took me years to figure out that Nicholas Cage is related to the Coppolas and that George Clooney is related to Rosemary Clooney and that pretty much all of Hollywood is a relative of another Hollywood star in one way or another. So, when I went to acting school for two years with Veronica De Laurentiis, it never dawned on me that she was related to the famed director, Dino, nor did I really care. She was beautiful, sweet, and talented and boy, when she got riled up in a scene, watch out! She always spoke passionately of food and delicious Italian dishes, Italian food traditions, and of another love, fashion. Occasionally, Veronica would speak of being a mom and a wife, but mostly in acting class, we were each focused on learning our craft, so chitter chatter centered around our characters, our scenes, and the brilliance of specific direction from our coach, DW.
Years later, when Giada first came on to the culinary TV stage, I thought, "De Laurentiis, she must be Veronica's younger sister". And there it began. Whenever Giada's name came up in social circles, I would proudly exclaim, "I went to acting school with her sister!" Why would I think otherwise? I first met Giada in 2009 at the original The Taste of Beverly Hills. We didn't get to speak as she was engulfed by fans so I didn't get to tell her I knew her sister. Finally, to my excitement, she arrived on the red carpet at the Los Angeles Food and Wine Festival 2013.  Nearly four years since I had missed my opportunity to share with her my news of studying for two years with her older sister, Veronica. I waited patiently near the end of the red carpet line for my chance to interview the enchanting star with the electric smile. After seeming endless moments and moments, there she stood before me. The first words out of my mouth were, "Hi Giada, I went to acting school with VERONICA!" With a tender heart, she replied, "She's my mom!" I couldn't see my face, but I could feel the shock, the surprise, and my heart melting all at once. "She's your mom?" I replied in a time-warped slow motion and felt joyful tears yearning to seep from my eyes. "Yes, that's my mom," she said. "Oh, wow," was all I could manage to say. Those few simple words, "She's my mom" stopped me in time. Memories from years before flooded my mind. I remembered Veronica speaking about her children, telling stories about them liking vegetables and cooking together. I remembered going to their house one afternoon for some sort of clothing showcase. I remembered beautiful, friendly little children playing. And now, standing before me was this little girl, all grown up with children of her own and a culinary mega-star.
My heart wanted to chat with her for hours over a nice glass of pinot grigio on a grassy lawn in the backyard at home. I wanted to say, "You look just like your mom; I can see so much of Veronica in you!"  I wanted to ask, "How is your mom, what is she doing now?" I wanted to ask what she must have thought as a little girl of her mom taking acting classes. I wanted to ask if Veronica gave her the inspiration to cook. I wanted to say, "please tell your mom I said 'hi'." But all I could get out of my mouth was, "well, I know you don't have much time, so let's get to this," and "this" would be the interview. And, with her publicist tapping at my arm to hurry it up, I asked what she has probably been asked a thousand times, "Can you share with moms how you manage your books, cooking shows, children, and a husband, all at the same time?" "What's your favorite workout?" and "How did she choose the menu for the Royal Family luncheon she catered for them?" Graciously she answered each one, to which I was equally graciously honored. But, what I didn't get to do was give her a hug and say, "I remember when you were a little girl; you're all grown up."  And, what I didn't get to say was, "Please tell your mom I said 'hi' and give her a hug for me."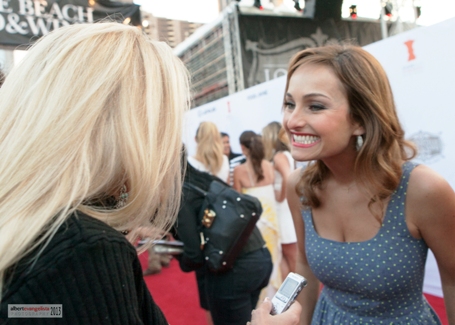 Hear Giada's interview and those of Michael Chiarello, Duff Goldman, Waylynn Lucas, Fabio Viviani, and other celebrity chefs in this free podcast of The Bikini Lifestyles Show which airs LIVE on Saturdays at 7pm on AM 790 KABC and iHeartRadio.