In the Art of the City is a high profile experiential event that will feature a mix of LA's cultural finest including eclectic cuisine by a collection of the city's most famed chefs, a silent auction featuring work from some of the city's most esteemed artists, music provided by the city's top DJs as well as a special guest performance by a famous LA recording artist.  Guests will enjoy a VIP Cocktail reception followed by an interactive dinner orchestrated by Patina Catering featuring the following chefs: Joachim Splichal of Patina Restaurant Group; David Feau of The Royce at the Langham Hotel in Pasadena; Josiah Citrin of Melisse; Celestino Drago, Giacomino Drago & Tanino Drago of Drago Centro; Ian Gresik of Drago Centro; Megan Logan of Nick+Stef's Steakhouse; Robert Luna of Mas Malo; Monica May of Nickel Diner; Kris Morningstar of Ray's & Stark Bar; Philippe Muze of Patina Catering; John Sedlar of Rivera.
Cheech Marin serves as Master of Ceremonies and the excitement continues with both a live auction MC'd by Sharon Stone and a silent auction featuring works by local LA artists Edgar Arceneaux, Tim Biskup, Eugenia P. Butler, Corazon Del Sol, Alexandra Grant, Alvaro Ilizarbe, Lisa Leone, Shana Lutker, Rodney McMillian, Mear One, and more.
Additional highlights include a live performance by Santana lead-singer Andy Vargas, flamenco guitar player from East LA, African drummers from Leimert Park, the Crenshaw High School Gospel Choir and more.  Guests can party late night to the sounds of DJ's Adam 12, Fatlip, Kiilu Grand, Rashida,Stonerokk, and Tendaji Lathan. 
Tables at the event range in price from $10,000 to $100,000.  The after party may be attended separately with tickets priced at $80 and $40 for students.
Host Committee includes: Pete Carroll, Jeffery Deitch, Nanci Chambers, David James Elliot, Regina King, Tim Leiweke, Sharon Stone, and Keisha & Forest Whitaker.
In the Art of the City, Thursday, May 3rd, 2012
6:00PM – VIP Cocktail Reception
6:00PM – 8:00PM – Red Carpet Arrival
7:00PM – Interactive Dinner Stations
8:00PM – Presentation & Entertainment
9:30PM – After Party
Vibiana Cathedral 214 South Main Street, Downtown Los Angeles 90012
About A Better LA
A Better LA is a 501 (c) 3 non-profit organization founded by current coach Pete Carroll. A Better LA is at the forefront of a new approach to solving the challenge of violence, its root causes and its domino impact in the inner-city. A Better LA funds, trains and empowers outreach workers, from within their own communities, to be at the schools, in the parks and on the streets to keep our kids safe. A Better LA connects those kids to services and positive activities. ABLA's extraordinary results include greatly reduced homicides (70% and 42% drops in our two main target areas). Further, ABLA's workers teach over 170 life skills workshops, make over 150 social service referrals, take over 600 kids on field trips, connect over 800 kids to sports, informally mentor over 1,200 youth, and engage over 50,000 kids and families through community events, each year. www.abetterla.org
posted by Alison Dlugosz for The Bikini Chef®
Catch The Bikini Chef® on Bikini Lifestyles "Wine Dine and Workout" on AM 790 KABC radio in Los Angeles Saturday nights, 7pm PT or stream LIVE online at http://www.kabc.com Visit: http://www.bikinilifestyles.com Check your local TV listings for Bikini Lifestyles "Wine Dine and Workout" airings in your town!
The Complete Idiot's Guide Quinoa Cookbook available for pre-order on Amazon.com: http://www.amazon.com/Complete-Idiots-Guide-Quinoa-Cookbook/dp/1615641939/ref=sr_1_1?ie=UTF8&qid=1337916843&sr=8-1
In stores: July 3rd, 2012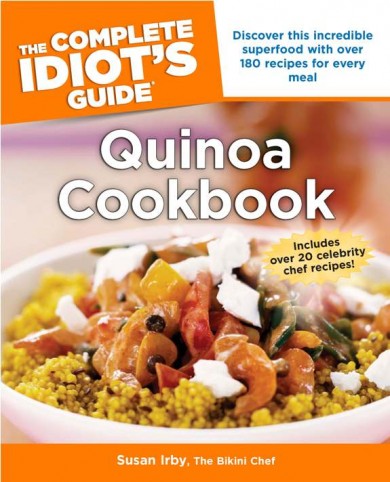 Other books by The Bikini Chef®:
Substitute Yourself Skinny
Boost Your Metabolism
$7 Healthy Meals
$7 Quick and Easy Meals
$7 Pressure Cooker Meals
Cooking With Susan : Southern Family Favorites
Follow The Bikini Chef®: