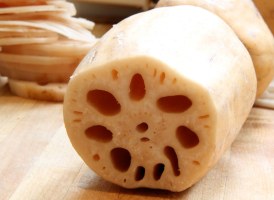 Low GI Lotus Root:  Although lotus is often considered a decorative plant, lotus root can be found in Asian cooking. Lotus root looks a bit like a chain link fence when sliced due to the holes inside the root and tastes similar to coconut but is crunchy like a raw potato. It is high in some essential nutrients, including vitamin C and potassium.
A 100-gram serving of lotus root contains 66 calories, 3 grams of protein and 16 grams of carbohydrate, including 5 grams of fiber. This is about 5% of the daily value for protein, 6% of the daily value for carbohydrate and 25% of the daily value for fiber.
Lotus is not only a low calorie snack but eating a serving of lotus root provides you with  vitamin C, vitamin B-6 and riboflavin, and thiamine. Vitamin C is an antioxidant that helps rid your body of free radicals that might otherwise damage your cells. It is essential for healing wounds and making new cells. The B vitamins are necessary for turning the food you eat into energy and keeping your hair, skin, liver and eyes healthy.
Each serving of lotus root also contains potassium, phosphorus, iron and magnesium, also. Potassium helps control your blood pressure and is essential for normal nerve and muscle function. Phosphorus is necessary for creating DNA, strong bones and teeth, and for repairing cells. Your body uses iron to form red blood cells and transport oxygen, and magnesium is important for maintaining blood sugar levels and normal muscle, nerve and immune function.
Want to try a new snack in 2014? See the Baked Lotus Root chip recipe!