Perfect Pool Party Fashion : Dress to Impress or Casual Chic
Guest post by Susan Bodack is the Director of Social Media Marketing at InStyleSwimwear.com, a Philadelphia-based online retailer specializing in fashion-forward designer swimwear, beachwear and accessories. Follow them on Twitter and Instagram at @InStyleSwimwear!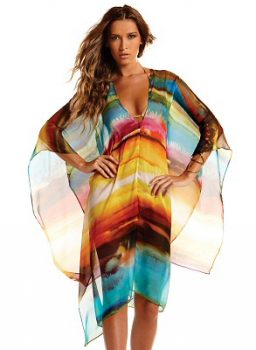 Perfect Pool Party Fashion… Memorial Day weekend is here! The official kick-off to Summer, pool parties become a way-of-life for weekends. If you're lucky enough to own a pool, enjoy sharing the fun with friends and family. Whether you're celebrating a holiday, birthday or just having a good time, a pool party is perfect for a laidback get-together.
Here are a few fashion tips to keep you looking and feeling chic and glamorous for your pool party:
Best Swimsuits for Your Body Type
If you are hosting:
As the hostess, all eyes will be on you, your home and your delicious food! Your pool party ensemble should be one less thing you have to worry about. Choose swimsuit styles that fit and flatter your figure. Here are figure flattering swimsuit tips to help you with the perfect look:
If you're hosting a themed party, your fashion should match the theme! For example, if your party is celebrating the 4th Of July, select a swimsuit or cover-up in red, white or blue! When it comes to accessories, keep it simple. Think sunglasses, a comfy, yet sexy, pair of flip-flops and a fashionable fedora or visor. Whichever look you choose, make sure you feel comfortable as it will reflect both inside and out!
If you are attending:
Be aware of who is hosting and the time of day. Is the hostess known for always wearing the latest fashions? Perhaps dress it up a bit with a touch of bling and a sexy sarong. Be aware of the time of day of your pool party for two reasons: one, daytime parties are usually more casual than evening get togethers; and two, often the temperature drops at night and you don't want to be left out shivering in the cold.
Support the hostess by following the theme. Choose looks that suit your personality but avoid going too over-the-top which will upstage your hostess. You may want to ask up front if this is a pool party where people actually swim. Chances are they will not be swimming, so a fun casual resort wear style is in order.
Don't forget the ultimate rule of the pool party, relax and have a good time!
The Bikini Chef® is the award-winning host of Bikini Lifestyles AM 790 KABC radio and best-selling author including "Substitute Yourself Skinny" listed by FOXNews.com as one of the Top 10Best Diet Books. Follow Susan on Twitter, Facebook, and Pinterest @thebikinichef Visit TheBikiniChef.com for recipes, podcasts, and travel tips.