Product Description
Bikini Cuisine™
Protein-packed snacks, power boosting energy drinks, and fresh foods for your on-the-go healthy lifestyle.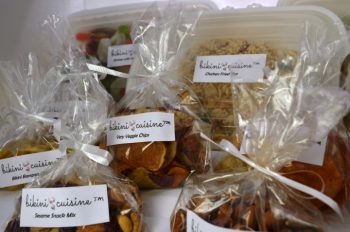 Choose from:
Power Up Protein Balls
PowerSnax Bars
Organic Energy Bars
PowerSnax Trail Mix
PowerSnax Fruit and Nut Trail Mix
PowerSnax Fruit, Nuts and Chocolate
Cayenne Nuts with Lime
PowerSnax Energy Nuts
Sesame PowerSnax
Very Veggie Chips
Oh boy, Soy Chips
Go Go Banana Chips
Baked Apple Chips
PowerSnax Energy Drinks:
Beet
Kale
Citrus
Fresh foods:
The Bikini Chef® recipes on Chef'd
Quinoa Pasta dishes
Soups
Salads
Wraps
Pricing varies by product.  Email store@thebikinichef.com for direct inquiries and store availability.