Antioxidants for Anti-Aging : Which Foods Will Benefit You?
When it comes to anti-aging, take care of your body inside and out.ᅠ Antioxidants are nutrients that have been proven to help you do just that.
Antioxidants fight off the damage caused by free radicals; these are highly active chemicals that have been linked to aging, among other diseases. Antioxidant containing foods such as fruit and vegetables definitely help in protection against loss of coordination and memory. Not saying these foods will turn back the hands of time, but berries such as cranberries and blueberries topped the antioxidant charts. These powerful berries will not only have you looking good, but feeling even better! When it comes to vegetables, greens such as spinach and kale hold the top spots!
Another great source of antioxidants is beans. Not only are they an excellent source of protein and fiber, but studies find that beans, particularly black ones, are a rich but overlooked source of antioxidants.
Let the fountain of youth flow as you enjoy this anti-aging, antioxidant rich blueberry smoothie. Enjoy for breakfast to kick-start your day or as a healthy pick-me-up mid-afternoon snack… its #SOBikini!
At around 100 calories per serving this will definitely help you achieve the bikini body you want!
Nutrition per serving:
Calories: 105.8
Fat: 0.8g
Saturated fat: 0.1g
Carbohydrates: 26.2g
Protein: 1.2g
Fiber: 3.4
Sodium: 8.5mg
Potassium: 232.8mg In this calorie-slashing collection, The Bikini Chef® Susan Irby offers recipes for switching up ingredients that keep calories to a minimum. Complete with serving-size suggestions and "Skinny Secret" shortcuts to trim calories in little ways, here you'll get expertly crafted recipes that include offerings for every meal of the day!
Books by The Bikini Chef®:

The Bikini Chef® Diet
Substitute Yourself Skinny
Boost Your Metabolism
The Complete Idiot's Guide Quinoa Cookbook
The Clean Separation
$7 Healthy Meals
$7 Quick and Easy Meals
$7 Pressure Cooker Meals
Cooking With Susan : Southern Family Favorites
Antioxidants for Anti-Aging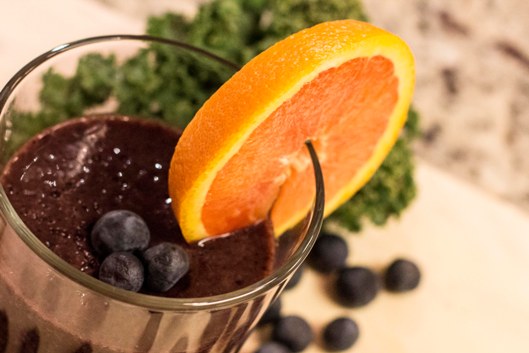 Recipe type: Yield: 2 Prep time: Cook time: Total time:
---
Chef Jess is an experienced chef with a Master's Degree in Nutritional Sciences. She provides her expertise to many individuals, groups and corporate settings in the Washington DC area.
Ingredients:
2-4 kale leaves

1/2 medium ripe banana, peeled

1 cup frozen blueberries

1 tablespoon agave

1 cup water
Directions:
Place all ingredients into a blender and blend until smooth.
Published on by Susan Irby