Gluten, sugar, dairy… the hottest ingredients to avoid these days. Some might think this could be devastating for apple pie, but switching out the modern day taboo ingredients for wiser options is tastier than you realize.
Almond flour, coconut oil, coconut milk, raw honey, raw sugar, almond milk and spices are some of the delicious ingredients used in this Apple Pie makeover recipe making it gluten-free, dairy-free and well, not sugar-free but raw sugar and honey are used which are natural sugars more easily metabolized.
Nutrition:
Serving size: 1 out of 10 slices
Calories: 390
Fat: 22.6g
Saturated fat: 10.4g
Cholesterol: 0g
Sodium: 10mg
Potassium: 148mg
Carbohydrates: 45.7g
Dietary fiber: 6.1g
Sugars: 32.5g
Protein: 5.6g
This recipe is high in vitamin C and is a good source of fiber and protein. When serving, add a dollop of non-dairy cashew based sour "cream", if desired.
Pastry crust can be made ahead of time and kept frozen.
In this calorie-slashing collection, The Bikini Chef® Susan Irby offers recipes for switching up ingredients that keep calories to a minimum. Complete with serving-size suggestions and "Skinny Secret" shortcuts to trim calories in little ways, here you'll get expertly crafted recipes that include offerings for every meal of the day!
Books by The Bikini Chef®:

The Bikini Chef® Diet
Substitute Yourself Skinny
Boost Your Metabolism
The Complete Idiot's Guide Quinoa Cookbook
The Clean Separation
$7 Healthy Meals
$7 Quick and Easy Meals
$7 Pressure Cooker Meals
Cooking With Susan : Southern Family Favorites
Apple Pie Makeover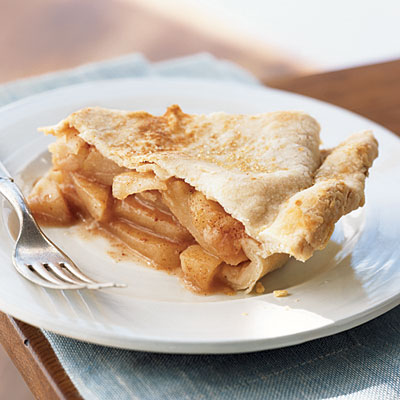 Recipe type: Yield: 10 Prep time: Cook time: Total time:
---
Almond flour, coconut oil, coconut milk, raw honey, raw sugar, almond milk and spices are some of the delicious ingredients used in this Apple Pie makeover recipe.
Ingredients:
Pastry crust**:

2 cups blanched almond flour

½ cup coconut oil, melted

2 tablespoons full fat coconut milk, cold*

2 tablespoons raw honey

**Double the pastry crust for this apple pie recipe

6 large Granny Smith apples, peeled, cored, and sliced 1/4 inch thick

Juice of 1/2 a lemon

3/4 cup raw sugar

2 tablespoons sorghum flour

2 tablespoons arrowroot starch

1 teaspoon ground cinnamon

1/2 teaspoon ground nutmeg

1 teaspoon almond milk
Directions:
Note: Double the ingredients for the pastry crust to make enough for the bottom and top of the pie.
Using a rubber spatula, mix all ingredients for the crust just until combined.
Do not over mix.
Split the dough in half.
Press half the dough into the bottom and sides of a 9-inch pie plate, reserving the remaining dough for the top crust.
Create fluted edges around pie with fingers if desired.
Cover crust, and freeze until ready to bake.
Wrap remaining dough in plastic wrap and hold in the refrigerator.
To Pre-Bake the Crust without Filling:
Preheat oven to 375*F and prick the bottom of the crust all over with a fork.
Line the crust bottom with parchment paper and fill with a single layer of dried beans.
Bake for 15-20 minutes, or until the pie crust begins to change color around the edges.
Remove the parchment paper and dried beans.
Bake an additional 5-15 minutes, or until the crust is golden brown.
Cool completely before filling.
For filling:
In a large mixing bowl, combine the apples and lemon juice.
In a small mixing bowl, whisk together the raw sugar, sorghum flour, arrowroot starch, cinnamon, and ground nutmeg.
Sprinkle the mixture over the apples and toss to coat.
Place the apple mixture in the pie shell, including any of the juices that may have accumulated.
Roll out the second pie crust and gently place it on top.
Trim the overhanging pie crust dough edge about 1 inch from the rim of the pie plate.
Fold and roll the top pie crust under the lower pie crust and flute as desired.
Use a sharp knife to carefully cut a series of slits, at least 4-8, in the top of the pie crust so the steam can escape.
Brush the crust with almond milk and sprinkle it with 1 additional teaspoon raw sugar (optional).
Increase oven temperature to 400*F.
Place the pie on a baking sheet and bake for 15 minutes.
Reduce heat to 350*F and continue baking for another 45 minutes.
The pie will be done when the crust is golden brown and the apples are soft (carefully insert a knife in one of the steam slits to test the softness).
Cool for about 1 1/2 to 2 hours before serving.
Published on by Susan Irby