Asparagus Finger Salad
Recipe Type: Side Dish
Author: The Bikini Chef
Prep time: 15 mins
Cook time: 2 mins
Total time: 17 mins
Serves: 4
Fun, finger food for a fresh twist on salads thats low calorie!
Ingredients
8 oz. fresh asparagus spears
1/3 cup light dairy sour cream
2 tsp lemon juice
1 tbsp fresh snipped chives
1 tsp fresh snipped tarragon leaves
1/8 tsp salt
1/8 tsp freshly ground black pepper
4 large butterhead lettuce or romaine lettuce leaves.
1 small carrot, halved lengthwise
2 tsp. finely shredded lemon peel
Instructions
Snap off and discard woody bases from asparagus.
Cook asparagus, covered, in a small amount of boiling water for 2-4 minutes, or until crisp-tender.
Transfer asparagus to a bowl filled with ice water, set aside.
For dipping sauce, in a bowl combine sour cream, lemon juice, chives, tarragon, salt and pepper. Cover and chill until serving time.
To serve, cut center vein from each lettuce leaf, keeping each leaf in one piece.
Place onto serving plate.
Pat asparagus dry.
Cut carrot in half into 4 equal lengthwise strips.
Divide asparagus and carrots evenly across the lettuce leaves.
Wrap lettuce around and place into a small upright serving cup.
Serve with or drizzle on top dipping sauce.
Catch The Bikini Chef on Bikini Lifestyles "Wine Dine and Workout" on AM 790 KABC radio in Los Angeles Saturday nights, 7pm PT or stream LIVE online at http://www.kabc.com Visit: http://www.bikinilifestyles.com Check your local TV listings for Bikini Lifestyles "Wine Dine and Workout" airings in your town!
Purchase books by The Bikini Chef:
The Complete Idiot's Guide Quinoa Cookbook available for pre-order on Amazon.com: http://www.amazon.com/Complete-Idiots-Guide-Quinoa-Cookbook/dp/1615641939/ref=sr_1_1?ie=UTF8&qid=1337916843&sr=8-1
In stores: July 3rd, 2012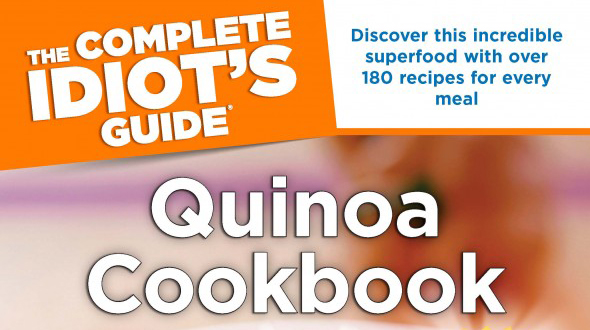 Other books by The Bikini Chef:
Substitute Yourself Skinny
Boost Your Metabolism
$7 Healthy Meals
$7 Quick and Easy Meals
$7 Pressure Cooker Meals
Cooking With Susan : Southern Family Favorites
Follow The Bikini Chef:
Asparagus Finger Salad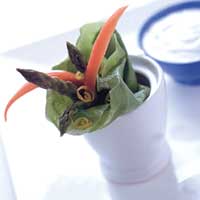 Recipe type: Yield: Prep time: Cook time: Total time:

---
Ingredients:
Directions:
Published on by Susan Irby