Adapted from my book,Boost Your Metabolism, throw out those out-dated marshmallow sugar-laden sweet potato recipes and enjoy the fresh flavors of sweet potato, coconut butter, gingerroot, and orange.

Sweet potatoes are a great source of vitamin C, antioxidants, fiber and other nutrients not to mention they taste good. Citrus and superfood walnuts make this recipe one of the healthiest for the holiday dinner table. NOTE: Subsitute equal amounts almonds or pecans for walnuts, if desired.
Nutrition:
Serving size: 1
Calories:153.6
Fat: 5.8g
Carbohydrates: 24.3g
Protein: 3.0g
Fiber: 4.1g
Sodium: 226.5mg In this calorie-slashing collection, The Bikini Chef® Susan Irby offers recipes for switching up ingredients that keep calories to a minimum. Complete with serving-size suggestions and "Skinny Secret" shortcuts to trim calories in little ways, here you'll get expertly crafted recipes that include offerings for every meal of the day!
Books by The Bikini Chef®:

The Bikini Chef® Diet
Substitute Yourself Skinny
Boost Your Metabolism
The Complete Idiot's Guide Quinoa Cookbook
The Clean Separation
$7 Healthy Meals
$7 Quick and Easy Meals
$7 Pressure Cooker Meals
Cooking With Susan : Southern Family Favorites
Baked Citrus Sweet Potatoes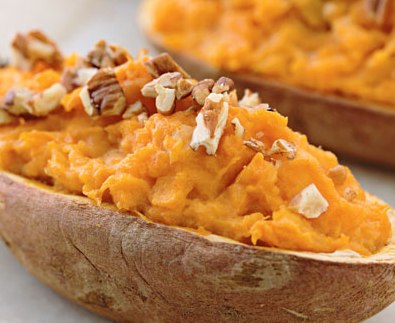 Recipe type: Yield: 6 Prep time: Cook time: Total time:
---
Sweet potatoes are a great source of vitamin C, antioxidants, fiber and other nutrients
Ingredients:
3 large sweet potatoes

1/4 cup orange juice

2 tablespoons coconut butter

1/8 teaspoon sea salt

1/2 teaspoon ground black pepper

1/2 tablespoon minced gingerroot

2 mandarin oranges, roughly chopped

1/4 cup roughly chopped toasted walnuts
Directions:
Preheat oven to 400*F.
Line a baking sheet with parchment paper.
Pierce potatoes with a fork and bake until tender, about 1 hour.
Remove from the oven and leave the oven set at 400*F.
Halve the sweet potatoes lengthwise and scoop out the pulp and place pulp into a large mixing bowl, being careful not to break the skins of the sweet potato.
Set skins onto the baking sheet.
Mash the sweet potato pulp with orange juice, coconut butter, salt, pepper, and ginger.
Stir in the orange pieces and spoon the mixture into the skins.
Top with walnuts and bake until heated through, about 15 minutes.
Serve hot.
*For presentation, place on a decorative platter; serve one-half baked sweet potato per person.
Published on by Susan Irby