Pork doesn't always have to mean fattening. For a leaner appetizer, this pool party recipe favorite lightens up with an easy trimming of the fat off the pork roast. Don't worry, you will still have plenty of flavor in this dish and you'll be able to enjoy a more "bikini" waistline.
BBQ Sliders
from Substitute Yourself Skinny by The Bikini Chef
4-pound bone-in pork shoulder roast, fat trimmed
1 teaspoon sea salt
2 teaspoons ground black pepper
2 tablespoons paprika
2 tablespoons brown sugar
1/2 tablespoon chili powder
1 teaspoon ground mustard
1/2 cup apple cider vinegar
1 medium yellow onion, chopped
2 cloves garlic, minced
4 springs fresh thyme
1 sprig fresh rosemary
4 sprigs fresh Italian flat leaf parsley
24 small southern-style country whole wheat dinner rolls, split
hot pepper sauce (optional)
Preheat oven to 350*. Lightly season pork with salt and pepper. In a small mixing bowl, combine the brown sugar, paprika, chili powder, and mustard. Mix well. Spread the spice mixture over the pork. Pour the apple cider vinegar into a roasting pan. Add the pork, onion, garlic, thyme, rosemary, and parsley. Cover with aluminum foil and cook for about 8 hours or until pork is fork-tender and falling off the bone. Shred and serve aobut 1/4 cup pork per bun. Top pork with hot sauce, if desired.
1 slider has:
240 calories
10g fat
16g carbs
16g protein
185mg sodium
Catch The Bikini Chef on Bikini Lifestyles "Wine Dine and Workout" on AM 790 KABC radio in Los Angeles Saturday nights, 7pm PT or stream LIVE online at http://www.kabc.com Visit: http://www.bikinilifestyles.com Check your local TV listings for Bikini Lifestyles "Wine Dine and Workout" airings in your town!
Purchase books by The Bikini Chef:
The Complete Idiot's Guide Quinoa Cookbook available for pre-order on Amazon.com: http://www.amazon.com/Complete-Idiots-Guide-Quinoa-Cookbook/dp/1615641939/ref=sr_1_1?ie=UTF8&qid=1337916843&sr=8-1
In stores: July 3rd, 2012
Other books by The Bikini Chef:
Substitute Yourself Skinny
Boost Your Metabolism
$7 Healthy Meals
$7 Quick and Easy Meals
$7 Pressure Cooker Meals
Cooking With Susan : Southern Family Favorites
Follow The Bikini Chef:
BBQ Sliders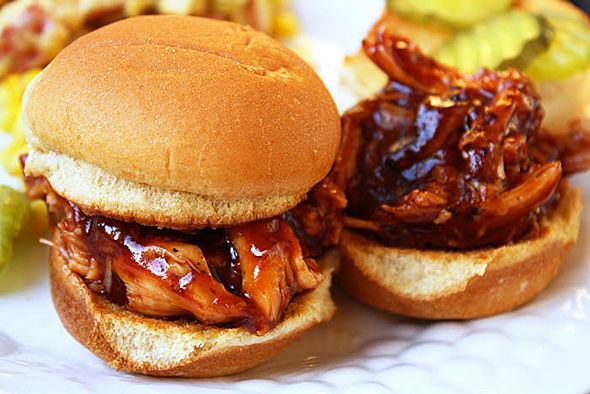 Recipe type: Yield: Prep time: Cook time: Total time:

---
Ingredients:
Directions:
Published on by Susan Irby