Winter Squash Risotto
Butternut squash, acorn squash are both popular during the winter months and rightly so, they bring a delicious hearty flavor to dishes like baked chicken, roasted vegetables and this winter risotto.
Naturally gluten-free, risotto is a recipe that provides a strong source of energy, is filling and loves a variety of ingredients. This recipe version showcases butternut squash, shallots, shitake mushrooms, fresh thyme leaves, saffron and finished with parmesan cheese. Serve this as a vegetarian entrée – it's filling enough for a meal – or with grilled, poached or baked rosemary chicken or a white fish such as halibut or sea bass.
Risotto is a dish best consumed on high activity days. Eat earlier in the day, as for lunch, or early evening for best metabolizing results. Great dish for leftovers!
Not a rice lover? Equally gluten-free quinoa can be substituted in equal amounts for the rice.
Nutrition:
Serving size: 1 cup
Calories: 245
Fat: 3.9g
Saturated fat: 0.7g
Cholesterol: 0mg
Sodium: 915mg
Potassium: 540mg
Carbohydrates: 42.5g
Fiber: 3.4g
Sugars: 4.0g
Protein: 7.8g
Winter Squash Risotto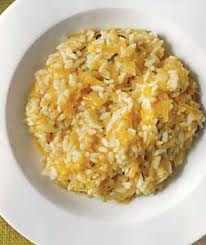 Recipe type: Yield: 6 Prep time: Cook time: Total time:

---
Winter squash is stirred into delicious risotto with shitake mushrooms, shallots, fresh thyme and saffron
Ingredients:
5 cups reduced-sodium chicken broth

1 tablespoon olive oil

3 medium shallots, thinly sliced

3 cups chopped peeled butternut squash (1/2-inch pieces)

2 cups shiitake mushroom caps, thinly sliced

2 teaspoons freshly chopped thyme leaves

1/2 teaspoon sea salt

1/2 teaspoon freshly ground pepper

1/8 teaspoon crumbled saffron threads, (optional)

1 cup arborio rice

1/2 cup dry white wine, or dry vermouth

1/2 cup finely grated parmesan or parmigiano-reggiano cheese
Directions:
Bring broth to a boil in medium saucepan, reduce heat and keep hot.
Heat oil in a separate saucepan and add shallots, stirring until fragrant, about 1 minute.
Stir in squash and mushrooms and cook until soft, about 5 to 8 minutes.
Stir in salt, pepper, thyme and saffron.
Add the rice and stir until translucent; then add the wine and continue to stir for about 1 minute.
Stir in 1/2 cup of broth and continue stirring until liquid has been absorbed.
Repeat by adding 1/2 cup broth at a time until all liquid has been absorbed and rice in al dente.
Remove from heat and stir in the parmesan cheese.
Serve hot.
Published on by Susan Irby