This to-die-for cheesecake has all the makings of a meal… pumpkin, cheese, and spices. Richly flavored, your tastebuds will say "more please" but this dessert is so filling you could even share and keep it #SOBikini!
A great dessert for Fall and the Holidays, keep this recipe in your record books to repeat year after year.
Nutrition:
Calories: 513.3
Fat:30.6g
Carbohydrates:54.5g
Protein:12.3g
Fiber:1.2g
Sodium:387.5mg
In this calorie-slashing collection, The Bikini Chef® Susan Irby offers recipes for switching up ingredients that keep calories to a minimum. Complete with serving-size suggestions and "Skinny Secret" shortcuts to trim calories in little ways, here you'll get expertly crafted recipes that include offerings for every meal of the day!
Books by The Bikini Chef®:

The Bikini Chef® Diet
Substitute Yourself Skinny
Boost Your Metabolism
The Complete Idiot's Guide Quinoa Cookbook
The Clean Separation
$7 Healthy Meals
$7 Quick and Easy Meals
$7 Pressure Cooker Meals
Cooking With Susan : Southern Family Favorites
Bourbon Pumpkin Cheesecake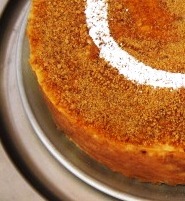 Recipe type: Yield: 10 Prep time: Cook time: Total time:
---
This todiefor cheesecake has all the makings of a meal. pumpkin, cheese, and spices. Richly flavored, your tastebuds will say
Ingredients:
For filling:

1 1/2 cups solid packed pumpkin (fresh pureed or canned without syrup)

3 large eggs

1/2 cup packed light brown sugar

2 tablespoons heavy cream

1 teaspoon vanilla extract

1 tablespoon bourbon

1/2 cup granulated sugar

1 tablespoon cornstarch

1 1/2 teaspoons cinnamon

1/2 teaspoon freshly grated nutmeg

1/2 teaspoon ground ginger

1/2 teaspoon sea salt

3 8-ounce packages cream cheese, low fat okay, room temperature

For topping: 2 cups low fat sour cream

2 tablespoons granulated sugar

1 tablespoon bourbon

For Crust: 3/4 cup graham cracker crumbs

1/2 cup finely chopped pecans

1/4 cup packed light brown sugar

1/4 cup granulated sugar

1/2 stick (1/4 cup) unsalted butter, melted
Directions:
Make crust: Butter or spray with nonstick cooking spray bottom and sides of pan.
Cut out a circle using parchment paper to line the bottom of the pan.
In a medium mixing bowl, stir together graham cracker crumbs, pecans, both sugars, and butter until well combined.
Press crumb mixture evenly onto bottom of pan and 1/2-inch up side of pan.
Chill crust for one hour.
Make filling and bake: Preheat oven to 350*F.
In a large mixing bowl, whisk together pumpkin, eggs, brown sugar, cream, vanilla,and bourbon until well combined.
Set aside.
Separately, using a standing mixer or mix by hand using a wooden spoon, combine granulated sugar, cornstarch, cinnamon, nutmeg, ginger, and salt.
Add cream cheese and beat with an electric mixer at high speed until creamy and smooth, about 3 minutes.
Reduce speed to medium and add pumpkin mixture and beat until smooth.
Pour filling into prepared crust, smoothing the top.
Place springform pan in shallow baking pan or on baking sheet (in case springform pan leaks).
Bake until center is just set, about 50 to 60 minutes.
Transfer to wire rack and cook about 5 minutes, leaving the oven on.
Make topping: In a small or medium bowl, whisk together sour cream, sugar, and bourbon.
Spread over top of baked, slightly cooled, cheesecake.
Return cheesecake to the oven and bake for 5 minutes.
Cool cheesecake completely in pan on wire rack for about 3 hours.
Cover and refrigerate until cold, at least 4 hours.
Remove sides of pan and bring to room temperature before serving.
Cheesecake can be made 2 days ahead and kept well-covered and refrigerated.
Note: Cooking time and Total time include a cooling period of 3 hours.
Cheesecake still needs to be refrigerated for 4 hours.
Published on by Susan Irby