Broccoli Salad with Toasted Almonds salad recipe is simple and simply delicious but the real bonus here is the powerful healing ingredients throughout.

Broccoli is one of the healthiest vegetables available and the good news is that it is reasonably priced in supermarkets. This versatile veggie is a great source of fiber which acts like a broom sweeping out toxins from the body. Broccoli is also rich in antioxidants such as vitamin A and is good for fighting all types of cancers including prostate, breast and ovarian cancers.
Most of the vitamins will be found in the florets whereas the broccoli stem is high in disease fighting phytochemicals – so don't throw those stems in the trash! For the best nutritive benefit, lightly steam broccoli as opposed to roasting or pan frying.
Other healing ingredients in this recipe, grapefruit, protein rich almonds, fat-releasing apples and digestive balancing vinegar.
A quick and easy side dish for any mid-week dinner, this recipe is also a favorite for weekend brunch. In this calorie-slashing collection, The Bikini Chef® Susan Irby offers recipes for switching up ingredients that keep calories to a minimum. Complete with serving-size suggestions and "Skinny Secret" shortcuts to trim calories in little ways, here you'll get expertly crafted recipes that include offerings for every meal of the day!
Books by The Bikini Chef®:

The Bikini Chef® Diet
Substitute Yourself Skinny
Boost Your Metabolism
The Complete Idiot's Guide Quinoa Cookbook
The Clean Separation
$7 Healthy Meals
$7 Quick and Easy Meals
$7 Pressure Cooker Meals
Cooking With Susan : Southern Family Favorites
Broccoli Medley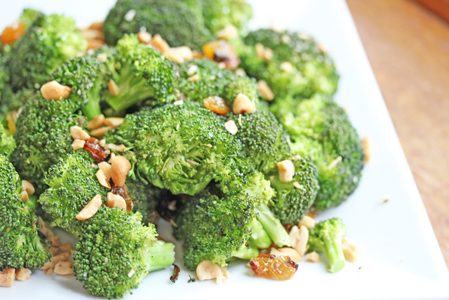 Recipe type: Yield: 4 Prep time: Cook time: Total time:
---
Broccoli Medley Easy recipe packed full of flavor and nutrients. Vitamin A, antioxidantrich broccoli is also filling due to its high fiber content. Apple and golden currants give this recipe a natural sweetness. Perfect as lunch or brunch entree, or serve as a side dish to healthy protein like grilled chicken.
Ingredients:
2 heads fresh broccoli, washed, stems cut

1/4 cup raw whole almonds

1/4 cup golden currants

3/4 medium golden delicious apple, diced with skin on

For Vinaigrette:

1/3 cup grapefruit juice

1 tablespoon balsamic vinegar

1/2 cup olive oil

1 heaping tablespoon chopped fresh tarragon

1 teaspoon raw honey

1 teaspoon sea salt

black pepper to taste
Directions:
Preheat oven to 250 degrees Fahrenheit.
Blanch broccoli in boiling salted water for 1 minute.
Drain and transfer immediately to an ice bath (a large bowl filled with ice and water).
Let rest for 5 minutes; drain well and pat dry with paper towels, if necessary.
*NOTE: Broccoli can be blanched ahead of time and placed in the refrigerator until ready to use.
Place almonds on a baking sheet and bake until lightly toasted, about 15 to 20 minutes.
Place broccoli on serving platter.
Sprinkle currants, apples and almonds over broccoli.
Pour vinaigrette over broccoli and serve.
Published on by Susan Irby