Cauliflower Mash otherwise known as MOCKTATOES!
The secret is out and it has been for years, actually. Cauliflower is the lower-carb, metabolism-friendly, great-tasting alternative to mashed potatoes!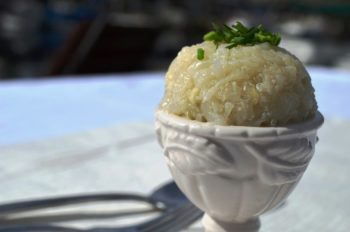 Before you turn your nose up and snub this versatile vegetable, take a look at these key reasons (in addition to the three listed above) to substitute cauliflower for potatoes as the side dish at dinner…
5 Reasons to Fall In Love with Cauliflower:
1) High in vitamin C and K
Vitamin C is one of the top vitamins to ward off colds, keep you feeling vibrant and energized and boosts immunity; good ole vitamin K is needed for healthy blood clotting and helps prevent bone loss
2) High in fiber so it promotes detoxification and reduces belly bloat
High fiber foods like cauliflower help swish out toxins and unwanted fats; think of fiber as like a broom sweeping through your arteries and brushing out the icky, unwanted cells and "dirt" ie: toxins. As fiber sweeps through, it helps reduce belly bloat, too!
3) Promotes weight loss
Reducing belly bloat, releasing unwanted fats and toxins help with losing weight, too. Plus, ounce per ounce, cauliflower is lower calorie than potatoes and is lower glycemic making it easier to digest than potatoes.
4) Helps balance hormones
High fiber foods that sweep through the body more easily as compared to more dense foods like potatoes, our hormones become more stabilized. And a benefit of more stable hormones… fewer mood swings and cravings.
5) Reduces cancer risk, reduces inflammation and promotes eye health
More like a three-for-one benefit here, cauliflower contains phytochemicals that help fight cancer, naturally reduce inflammation in the body (which fiber will also do, too) and properties in cauliflower help strengthen the eyes.
Bonus reason to mash cauliflower instead of potatoes this Holiday season and beyond… it cooks in half the time!
In this recipe, cauliflower is blanched or steamed and mashed with nutritional yeast, grapeseed oil, chives, and Italian parsley. Never used nutritional yeast? It is the perfect vegan substitute for parmesan cheese and is available at most specialty food markets! Also great recipe adds are a pinch of turmeric, cumin, and cardamom for post-Thanksgiving anti-inflammatory bloat boost.
Cauliflower Mash
Recipe type: Yield: 4 Prep time: Cook time: Total time:
---
Cauliflower is blanched or steamed and mashed with nutritional yeast, grapeseed oil, chives, and Italian parsley.
Ingredients:
3 cups blanched or steamed cauliflower

1 tablespoon grapeseed oil

1/3 cup chopped chives

2 tablespoons chopped Italian parsley

fine zest of 1 lemon

juice of 1/2 lemon

2 garlic cloves, minced

1/4 cup nutritional yeast

pinch red pepper flakes (optional)
Directions:
Add all ingredients to a high speed blender and pulse until it is the desired consistency of mashed potatoes.
Add water, as needed, for desired consistency.
OR, alternatively, cut cauliflower in to manageable chunks (about 2-inch pieces) and place in a mixing bowl.
Use a potato masher to mash to desired consistency.
Gently fold in all other ingredients and serve hot.
Published on by Susan Irby