Italian Chocolate Torte
I learned how to make this traditional Italian torte in Florence, Italy when I worked at Beccofino Ristorante and Wine Bar. One of the funniest memories from making this torte was the night I accidentally put too much cayenne pepper in it. One of the chefs there who always had my back, Chef Marco, tasted the torte and said, "Susanna, you cannot serve this; people will die!" We had a great laugh and well, don't tell the Executive Chef, but I had to throw it out and start all over. Good thing though because since then, I have never put too much cayenne pepper in again. Maybe 🙂
True to the traditional recipe, this chocolate torte features rich dark chocolate with high cocoa content. Dark cocoa provides the body with antioxidants as well as rich, dark chocolate flavor. Make sure to use grass fed butter, organic free-range eggs, and if you keep sugar around – which I don't – place the vanilla bean pods in your sugar container for natural vanilla bean flavored sugar.
Satisfying both your sweet tooth and getting nutrients at the same time, this chocolate torte is so rich you only need to serve 1/16 per serving. Truth!
To save on calories, fat, and carbs, this torte can be made without the pastry crust. It tastes just as good and is pure creamy, rich dark chocolate.
Nutrition:
Pastry Crust:
Serving size: 1/16
Calories: 134
Fat: 6.7g
Saturated fat: 4.1g
Cholesterol: 24mg
Sodium: 48mg
Potassium: 21mg
Carbohydrates: 16.6g
Sugars: 4.6g
Protein: 1.9g
Nutrition:
Chocolate Torte
Serving size: 1/16
Calories: 410
Fat: 27.2g
Saturated fat: 17.5g
Cholesterol: 120mg
Sodium: 142mg
Potassium: 222mg
Carbohydrates: 35.1g
Fiber: 1.8g
Sugars: 29.7g
Protein: 6.9g
In this calorie-slashing collection, The Bikini Chef® Susan Irby offers recipes for switching up ingredients that keep calories to a minimum. Complete with serving-size suggestions and "Skinny Secret" shortcuts to trim calories in little ways, here you'll get expertly crafted recipes that include offerings for every meal of the day!
Books by The Bikini Chef®:

The Bikini Chef® Diet
Substitute Yourself Skinny
Boost Your Metabolism
The Complete Idiot's Guide Quinoa Cookbook
The Clean Separation
$7 Healthy Meals
$7 Quick and Easy Meals
$7 Pressure Cooker Meals
Cooking With Susan : Southern Family Favorites
Italian Chocolate Torte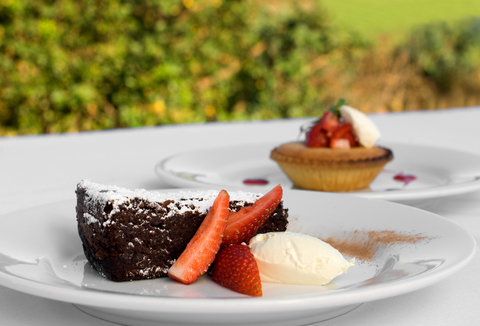 Recipe type: Yield: 16 Prep time: Cook time: Total time:
---
Dark cocoa provides the body with antioxidants as well as rich, dark chocolate flavor. Make sure to use grass fed butter, organic free-range eggs
Ingredients:
For Pastry Crust (makes enough for 4 crusts):

1 kilo plain flour

500 grams butter, softened but not melted

300 grams powdered sugar

Fresh vanilla from 2 vanilla beans, pods discarded

Zest of one lemon (fine grate zest)

Zest of 1/2 medium orange (fine grate zest)

3 eggs

For Chocolate Torte:

800 grams dark chocolate, preferably 60% or greater cocoa

8 eggs – separated

30 grams plain flour

200 grams unsweetened butter

60 grams granulated sugar

1/2 teaspoon pepperoncino powder (or cayenne pepper)
Directions:
Instructions for Pastry Crust:
Preheat oven to 300 degrees.
Combine flour, butter and sugar; Mix well.
Add lemon and orange zest and vanilla; Mix well.
Add eggs one at a time; Mix thoroughly until pasty.
Place in refrigerator overnight or in freezer for 20 mins.
Remove from freezer (or refrigerator) and use a pastry cutter to divide dough into four equal parts.
Tightly wrap three of the parts in plastic wrap and keep in freezer for future use.
Using one-fourth of the dough, form into a nice, even ball.
Coat the inside of an 8-inch spring-form pan or cake ring with butter or coconut butter.
Spread an approximate 24″ square area with parchment or wax paper.
Dust with a little plain flour; Using rolling pin, roll out pastry crust into a thin layer, about 1/4 to 1/2 inch thick.
Transfer crust to spring-form pan pressing firmly into bottom and sides or press cake ring into dough and place on a baking sheet.
Gently pierce middle of crust with fork.
Bake in 300 degree oven for 10-15 mins or until golden brown.
Once removed, increase oven temperature to 375 degrees.
To Make Chocolate Torte:
Melt chocolate and butter together over double boiler.
Mix egg yolks with flour.
Temper chocolate mixture into egg yolks, blend well.
Add in pepperoncino powder.
Whip egg whites in a standing mixer or using a handheld mixer until soft peaks form, continue whipping while adding the powdered sugar.
Fold egg whites into chocolate mixture.
Pour into prepared pastry crust, instructions above.
Bake at 375 degrees for approximately 30 minutes.
Torte should jiggle in the center.
Remove from oven and let cool completely, about 45 minutes.
Place in refrigerator for 30 minutes or make ahead and refrigerate overnight.
Slice into 16 slices and serve with fresh raspberries, if desired.
Published on by Susan Irby