Diageo presents the OSCARS® Scot's Pear Cocktail
The premiere cocktail of The Academy Awards® 2015, Diageo presents the Johnnie Walker Scotch Whisky Scot's Pear cocktail. This golden cocktail will be the signature cocktail to be sipped and savored at the Governor's Ball which takes place immediately following the 87th Annual Academy Awards presentation on Sunday, February 22, 2015.
Diageo brands will be hosting a luxury whisky bar featuring: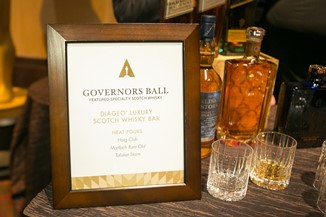 Blended Scotch –
Johnnie Walker Red Label
Johnnie Walker Black Label
Johnnie Walker Gold Label Reserve
Johnnie Walker Platinum Label
Johnnie Walker Blue Label
Single Malt –
Mortlack Rare Old
Talisker Storm
and Single Grain–
Haig Club
I enjoy a spot of whisky every now and then, but I had never had a Single Grain scotch. I opted to try the Haig Club "neat" for my tasting at the OSCARS® Governors Ball press preview. Boy, did that go down smoothly! I wonder whose OSCAR winning lips will taste THAT on the night of the 22nd?!
The luxury scotch whisky bar will treat guests to savor the above selected whisky either neat, on the rocks, with a splash of water, or they can sip and chat over the Scot's Pear cocktail, recipe featured here. The Scot's Pear is mixed with the finest whisky, of course, Johnnie Walker Gold label in celebration of OSCAR gold, a bit of tawny port, pear juice, ginger syrup, and lemon juice. Many of my favorite cocktail ingredients!
An interesting note about the Scot's Pear cocktail is that it is served in a Double Old Fashioned Glass with an anything-but-Old-Fashioned ice cube. One solid cube of pure, mineral free ice keeps this cocktail chilled for hours – not that the sipping will last that long with this tasty drink. These ice cubes are custom made in Los Angeles and are the official "cube" of the Governors Ball. Nice!
Want to serve this up at your OSCAR party? Enjoy the recipe below!
For more about Diageo brands and the luxury bar, visit Diageo.com (you must be 21 years or older to visit this site)
Tune in for the glitz and glamour of Hollywood on Sunday, February 22, 2015. Coverage begins LIVE on ABC at 7pmET/4pmPT. Full details here: Oscar.go.com
Photos courtesy of Albert Evangelista– Photography by Albert In this calorie-slashing collection, The Bikini Chef® Susan Irby offers recipes for switching up ingredients that keep calories to a minimum. Complete with serving-size suggestions and "Skinny Secret" shortcuts to trim calories in little ways, here you'll get expertly crafted recipes that include offerings for every meal of the day!
Books by The Bikini Chef®:

The Bikini Chef® Diet
Substitute Yourself Skinny
Boost Your Metabolism
The Complete Idiot's Guide Quinoa Cookbook
The Clean Separation
$7 Healthy Meals
$7 Quick and Easy Meals
$7 Pressure Cooker Meals
Cooking With Susan : Southern Family Favorites
Scot's Pear Cocktail
Recipe type: Yield: 1 Prep time: Cook time: Total time:
---
Diageo presents the OSCARS
Ingredients:
1.5 ounces Johnnie Walker Gold or Platinum label

.25 ounces Tawny Port

1 ounce pear juice

.75 ounces ginger syrup

.75 ounces lemon juice

and one large, gigantmo ice cube (if you have one) or ice

candied ginger, for garnish
Directions:
Shake all ingredients and strain into a Double Old Fashioned glass.
Garnish with a piece of candied ginger.
Sip and enjoy.
Published on by Susan Irby