EMMY Heirloom Tomato Salad with Quinoa… dine like a star on EMMY night with this luscious, healthy salad created by Patina's Executive Chef Joachim Splichal and served by his executive culinary team and staff. Recipe below, but in the meantime, discover the Golden Grandeur of Hollywood as celebrated at the 69th EMMY Awards Governors Ball this Sunday, September 17.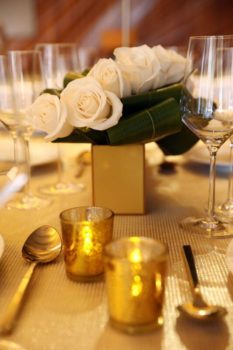 IN THE KNOW… the 69th Annual EMMY Awards airs this Sunday, September 17th on CBS TV!
FOR IMMEDIATE RELEASE
2017 EMMY® AWARDS GOVERNORS BALL CELEBRATES EXCELLENCE IN
TELEVISION AND INTEGRATES SUSTAINABILITY INTO GOLDEN GRANDEUR THEME
The Television Academy today reveals the Golden Grandeur as the theme of its exclusive Emmy® after-­party celebrations: the Governors Ball on Sunday, September 17 immediately following the 69th Emmy Awards
telecast;; and, back-­to-­back Creative Arts Governors Ball events on Saturday, September 9 and Sunday, September 10.
"The 2017 Governors Ball and Creative Arts Governors Ball events will set the gold
standard in terms of elegance and environmental sustainability – verifying the two
concepts can be compatible," said Governors Ball Committee Co-­Chair, Barbara Cassel.
The trio of Emmy Awards after-­parties will bring Golden Grandeur to life within an epic,
dazzling and contemporary setting, punctuated by a gilded overhead art installation,
forming a sea of undulating golden waves and spanning the length and breadth of the
ballroom. "All décor and food elements for the Governors Ball and Creative Arts Governors Ball
events are either recyclable, repurposed or bio-­degradable," added Ed Fassl, Governors
Ball Committee Co-­Chair. "All the elements will come together to create an inspiring and
unforgettable experience for our guests."
Event producer Cheryl Cecchetto of Sequoia Productions shared, "Celebrating our 20th
consecutive year producing the Governors Ball, Sequoia Productions challenged
ourselves to deliver an unprecedented, ultra-­modern theme, including cutting-­edge
design and a commitment to environmental sustainability."
About the Décor
In a dramatic departure from previous Governors Ball celebrations, the 2017 galas will
delight guests with a streamlined esthetic that emphasizes recurring architectural shapes
in resplendent, monochromatic gold. Rectangular tables, linear aisles and seating are
complemented with dynamic accents including tall, contemporary table lamps, linens infused with rich golden thread and tall, vibrant floral arrangements rising in unison from tables to reinforce the architectural theme.
The décor becomes even more impressive thanks to the commitment of Governors Ball Committee members and Sequoia Productions to zero waste. For example, the 5,000 paper cylinders that will make up the parties' signature overhead art installation are painted with biodegradable gold coloring, and are recyclable and reusable. Tables, chairs, linens, cutlery and glassware are rentals that will be reused at future events, as will audio, lighting, rigging and stage equipment. Even the flowers and greenery adorning table centerpieces will be repurposed as mulch following the event.
Wine and Dine
Legendary Chef Joachim Splichal and Patina Catering return to cater the Governors
Ball for the 22nd year. Splichal, along with Executive Chef of Culinary Gregg Wiele,
Executive Chef of Patina Catering Alec Lestr, and Executive Pastry Chef Frania
Mendivil, will express the Golden Grandeur theme in a masterful, three-­course menu
that showcases peak of the season produce while exemplifying culinary sustainability
and a commitment to giving back. This includes incorporating a job program with L.A.
Kitchen, a local nonprofit that believes no food or person should ever go to waste, as
well as donating food waste from the celebrations to local farms as compost for the next
season of crops. In these ways and more, Patina Catering raises the bar in prioritizing
sustainable culinary practices and cultivating a culture of reciprocity within the Los Angeles community.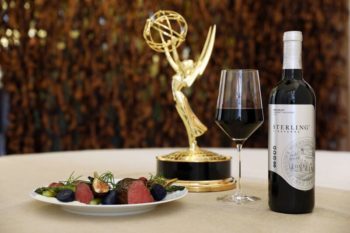 Iconic Napa Valley winery Sterling Vineyards returns for the second consecutive year as the Exclusive Wine Sponsor of Emmy Awards Season and all Television Academy nominee celebrations leading up to the Emmys. The Governors Ball Committee selected the Sterling Vineyards Napa Valley Cabernet Sauvignon, Napa Valley Sauvignon Blanc, and Napa Valley Chardonnay to pair with the largest sit-­down awards dinner in America. Adding a touch of glamour to the festive evening, all award recipients will receive a custom-­made bottle of Sterling Vineyards' new luxury Cabernet Sauvignon, IRIDIUM, and are invited to enjoy a glass of the exclusive wine while their Emmy statuette is personalized in the Emmy Winner's Circle.
Ferrari Trento, Italy's most awarded sparkling wine producer, makes a third appearance
as the Emmys' official bubbly. Guests departing the awards ceremony and entering the
Governors Ball will kick off the celebration as they enjoy flutes of prestige label Ferrari
Brut Trentodoc. Inside the party guests will toast with a choice of sparklers including
Ferrari Perlé, Perlé Rosé, and Giulio Ferrari Riserva del Fondatore. Ferrari Trento
vineyards have all been awarded organic certification, embodying the theme of natural
elegance with sustainable mountain agriculture. Indeed, elegance is a defining
characteristic of Ferrari wines.
In honor of the craft and innovation of the television industry, award-­winning bartender
Charles Joly designed a signature Emmy cocktail featuring The Hilhaven
Lodge Blended Straight American Whiskey. Created in partnership with renowned
director and producer Brett Ratner, The Hilhaven Lodge is a blend of three whiskeys,
from three different decades, commemorating some of Hollywood's most star-­studded
celebrations. The signature Emmy cocktail, The Hilhaven Lodge Fireside, is a
balanced combination of whiskey, absinthe, spiced pear liqueur, and fresh lemon
juice. Throughout the celebration, attendees will also enjoy the Diageo Luxury Brands
collection. When toasting to the Emmys evening, please do so responsibly.
FIJI Water, the number one premium bottled water brand in the United States, will return for the fourth consecutive year as the official water of the 69th Emmy® Awards Red Carpet and Governors Ball. Upon entering the Governors Ball, guests will be greeted with FIJI Water and their custom FIJI Straws. FIJI will continue to keep guests hydrated
with placement on every table.
With three separate galas over back-­to-­back weekends, the Television Academy will host the most guests ever -­-­ more than 8,500 -­-­ at these epic celebrations reflecting a dynamic year in television. The Governors Ball following the Emmy Awards telecast has itself become the nation's largest annual formal sit-­down dinner, hosting 4,000-­plus
Emmy winners, nominees and entertainment luminaries.
The 69th Emmy Awards will telecast live from the Microsoft Theater in Los Angeles, Sunday, September 17 (8:00-­11:00 PM ET/5:00-­8:00 PM PT) on CBS. Stephen Colbert will serve as host. The 69th Emmy Awards is produced by White Cherry Entertainment. Glenn Weiss and Ricky Kirshner are executive producers;; Weiss is director; and Chris Licht, executive producer of The Late Show with Stephen Colbert, is a producer.
FOR YOUR AT-HOME EMMY ENTERTAINING PARTY… Party tips from event producer, Cheryl Cecchetto of Sequoia Productions…
Cheryl's Golden Rule: Stimulate your guests via all five senses and keep them guessing. Create an
evolving guest experience so they will find themselves looking forward to the next reveal, just as
we look forward to the next Emmy win.
Invitations:
1) This is Television's biggest night of the year! Create your personal invite in the form of a live THEATRE TICKET. Find great designs and imagery online or peruse the many templates on free invitation websites such as Paperless Post, which has a selection of elegant viewing party invitations.
2) Suggest to your guests that they check their cell phones at your door, get off the grid,
and fully immerse themselves into the Emmy festivities.
Attire:
3) Encourage your guests to dress up for this illustrious evening. Discover websites such
as Rent the Runway and brick and mortar stores who offer designer dresses for a
fraction of the usual cost. Or encourage your guests to come dressed as their favorite
TV character.
Decor:
The 69th Emmys Governors Ball theme Golden Grandeur features ultra-modern elegance,
underscored by a commitment to sustainability and repurposed materials.
4) Paint empty wine bottles or jars in Emmy gold for a whole new look in floral vases,
creating beautiful, upcycled arrangements.
5) Add sparkle to your drinkware by wrapping cups or wine glass stems in gold "Washi
Tape", found at any craft store or online. You can also wrap empty jars in "Washi Tape"
to create festive votives — just add a battery-operated tea light.
6) Fill clear containers with bite-sized candy wrapped in gold (Rolos, Kisses, Reese's, etc.)
for a sweet treat and décor accent all in one.
7) Visit your local floral mart for striking, long-stemmed white calla lilies or roses, which will
be found throughout this year's Governors Ball. Adorn with gold tulle.
8) Wrap twinkle lights in gold tulle for a glamorous garland adorning your bar, buffet or
fireplace mantle.
Food and Beverage:
9) The Governors Ball entire menu and even choice recipes is available on emmys.com/governorsball. Offer bite-sized versions of the delectable dishes that the stars will enjoy, placing them where your guests can easily reach them. Today's diet conscious guests are much more likely to indulge and enjoy smaller portions.
10) Find inspiration from the Governors Ball menu designed by Patina's Chef Joachim Splichal. All recipes are available at emmys.com/governorsball. EMMY Heirloom Tomatoes with Quinoa recipe provided below!
a. Taste Station 1: Mini salads featuring Heirloom Tomatoes (recipe below)
b. Taste Station 2: Bite-sized Filet Mignon with Marble Potatoes
c. Taste Station 3: Brownies with chocolate ganache sauce – inspired by Chef
Joachim's Alunga Brownie Bar
11) Liven up your buffet items and your cocktails with TV-themed names. For example, you
could feature delicious "Big Little Pies," honoring the nominated TV show and stars.
12) Offer a self-serve bar featuring a variety of great wines from Sterling Vineyards and
sparkling wines from Ferrari Trento. Governors Ball luminaries will be sipping the
signature Emmy cocktail – The Hilhaven Lodge Fireside. Design your own Hilhaven
Lodge Blended Straight American Whiskey cocktail, or get the Fireside recipe at
emmys.com/governorsball.
Entertainment:
13) Prior to the telecast, invite your guests to fill out an Emmy ballot to guess the winners.
Download ballots from emmys.com/governorsball, distribute and your guest who selects
the most winners receives a prize.
14) Create Emmy Bingo cards with each space on the card suggesting something that might
happen in the telecast. For example: "Conductor interrupts speech," "Winner wearing a
blue dress" or "Speech goes political." The first person to complete a vertical, horizontal
or diagonal line wins.
15) Set up a photo booth close to your front door for the ultimate ice-breaker. Create a
simple, festive backdrop with draped fabric, including accents of gold, the official color of
the Ball. Look for props representing your favorite TV shows such as Christmas lights
(Stranger Things) and crowns (The Crown) or classic TV props such as TV frames,
clapboards and cartoon-style thought bubbles.
16) Prize Ideas:
a. Video streaming service gift certificate
b. A bottle of Sterling Vineyards wine or Ferrari Trento sparkling wine, the Official
Wine and Sparkling Wine providers of the Emmys Governors Ball.
c. Gift Certificate to a Patina restaurant, the caterer of the Emmys Governors Ball
for 22 years.
17) Create a playlist comprised of your favorite TV show theme songs or soundtracks setting
a festive and energized tone from the start.
Parting Gift:
18) In keeping with this year's commitment to sustainability, send guests home with a gift
you made yourself! Wine Cork Coasters — recycled, reusable and practical! Check out
YouTube for tips on making this DIY project.
19) Create a custom, reusable tote/gift bag adorned with a catchphrase from an EMMY
nominated TV show.
"Jack of all trades. Master of None." – Master of None
"Making the world a Kimmier place." – The Unbreakable Kimmy Schmidt
"This is real. This is love. This is life." – This is Life

RECIPE CREATIONS… for the FIRST COURSE, here is the recipe for the "Last of the Heirlooms" Tomato Quinoa Salad (Recipe adapted to make at home)
PHOTO CREDITS: Matt Sayles/Invision for the Television Academy
EMMY Heirloom Tomato Salad with Quinoa
Recipe type: Yield: 6 Prep time: Cook time: Total time:
---
This first course for the 69th EMMY Governors Ball features heirloom tomatoes, lemon balsamic vinaigrette and red quinoa in celebration of the Golden Grandeur of Hollywood theme
Ingredients:
1 oz. fresh lemon juice

3 oz. extra virgin olive oil

1 cup red quinoa

1 oz. balsamic vinegar

2 oz. olive oil

sea salt

pepper

4 large heirloom tomatoes

4 ripe Dinosaur heart plums

sea salt

pepper

1 oz. of mixed fresh small leaves of Thai basil, opal basil, and green basil

12 fried large basil leaves (optional)
Directions:
For the Quinoa:
Make the lemon vinaigrette by whisking olive oil into lemon juice.
Make the quinoa by mixing the red quinoa into 2 cups of water, bring to a simmer, cooking about 20 minutes until the quinoa is tender, let cool off and mix in enough vinaigrette to season.
For the Balsamic Vinaigrette:
Make the balsamic vinaigrette by pouring balsamic vinegar and olive oil in a bowl, and whisk together.
Add sea salt and pepper to season.
To Serve:
Cut the tomatoes into slices and the plums into wedges.
Arrange the tomatoes on the plate, sprinkling them lightly with sea salt and pepper.
Place a few mounds of quinoa on the plate, along with the plum wedges.
Dress with balsamic vinaigrette.
Top with the mixed fresh basil leaves and fried leaves, if desired.
Published on by Susan Irby