Give a flavorful boost to your health! This fabulous low calorie, low fat recipe is one of the healthiest around. Fat-burning grapefruit, vitamin and fiber rich fennel, and skin-glow loving avocados create a looking and feeling your best win-win in this entree or side dish recipe packed with surprisingly delicious flavor combinations.
Grapefruit, Fennel, Avocado Salad
by The Bikini Chef (2012)
Serves 12
1/3 cup fresh grapefruit juice
¼ cup fresh lemon juice
3 tablespoons olive oil
2 tablespoons honey
1 tablespoon minced shallot
1 teaspoon grated lemon peel (lemon zest)
1 teaspoon grated grapefruit peel (grapefruit zest)
1 teaspoon minced fresh ginger root
1 teaspoon dry mustard
1 teaspoon sesame oil
2 large pink grapefruit, peel and white pith removed
1 pound fennel bulbs, trimmed and sliced paper thin
2 large avocados, halved, pitted, and sliced
2 cups mixed greens
Remove the zest from one grapefruit. Use a sharp knife to cut away the peel completely, then use a paring knife to cut between the membranes to remove the fruit. Squeeze leftover juice into a separate bowl, then measure out 1/3 cup of the juice.
Whisk the first 10 ingredients together in a large bowl. Season with salt and pepper.
Spread the greens on a large platter. Arrange fennel slices over the greens. Arrange grapefruit segments and avocado over the fennel. Drizzle salad dressing over the salad.
Catch The Bikini Chef on Bikini Lifestyles "Wine Dine and Workout" on AM 790 KABC radio in Los Angeles Saturday nights, 7pm PT or stream LIVE online at http://www.kabc.com Visit: http://www.bikinilifestyles.com Check your local TV listings for Bikini Lifestyles "Wine Dine and Workout" airings in your town!
Purchase books by The Bikini Chef:
The Complete Idiot's Guide Quinoa Cookbook available for pre-order on Amazon.com: http://www.amazon.com/Complete-Idiots-Guide-Quinoa-Cookbook/dp/1615641939/ref=sr_1_1?ie=UTF8&qid=1337916843&sr=8-1

In stores: July 3rd, 2012
Other books by The Bikini Chef:
Substitute Yourself Skinny
Boost Your Metabolism
$7 Healthy Meals
$7 Quick and Easy Meals
$7 Pressure Cooker Meals
Cooking With Susan : Southern Family Favorites
Follow The Bikini Chef:
Grapefruit Fennel Avocado Salad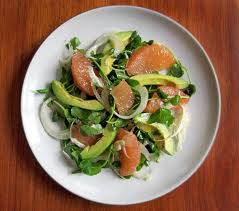 Recipe type: Yield: Prep time: Cook time: Total time:

---
Ingredients:
Directions:
Published on by Susan Irby