My Hubby's Chris Moore, is a real estate genius who leaves most of the cooking to me. But, he is also a fantastic fisherman and when it comes to sushi, ceviche, and even selecting fish, my husband takes on a whole new form of genius.
For this week's #SOBikini Recipe Wednesday, Chris shares his delicious Shrimp Ceviche Recipe that we enjoyed on Sunday, actually, while watching his favorite football team, the Cincinnati Bengals. To our delight, it was a double win.. the Bengals won the game and the ceviche was a winning creation.
Ceviche is commonly seen served as an appetizer, but really, it is quite a versatile dish.
Enjoy leftover ceviche as a mid-week snack or as part of your lunch, place atop a pile of mixed greens tossed with a simple balsamic vinaigrette. Delicious, nutritious and just downright enjoyable to the eyes and the tastebuds.
To create a balanced, flavorful ceviche, fresh shrimp is marinated
in fresh lime and lemon juice for 1 hour. Then, a blend of red onion, green onion, serano chile peppers, and cilantro are added and the mixture marinates for another two hours. Once ready, the ceviche is served with a dollop of non-fat sour cream, fresh tomato salsa, and avocado.
As a serving suggestion, an even healthier alternative
to non-fat sour cream would be to substitute a dollop of non-fat, plain greek yogurt. Very similar in flavor yet greek yogurt has probiotic properties and a bit of healthy protein.
Nutrition:
Serving size: 1/2 cup ceviche with 1 heaping tablespoon of sour cream and 2 tablespoons fresh salsa
Calories: 132
Fat: 4.7g
Saturated fat: 0.8g
Carbohydrates: 8.1g
Protein: 14.7g
Fiber: 2.2g
Sodium: 178mg
This recipe definitely is #SOBikini because it is filled with skin-glowing healthy fats from avocado, very low in saturated fat, and high in vitamin C and B vitamins which are wonderful for relieving anxiety and stress, improving mood, and a quick energy boost. In this calorie-slashing collection, The Bikini Chef® Susan Irby offers recipes for switching up ingredients that keep calories to a minimum. Complete with serving-size suggestions and "Skinny Secret" shortcuts to trim calories in little ways, here you'll get expertly crafted recipes that include offerings for every meal of the day!
Books by The Bikini Chef®:

The Bikini Chef® Diet
Substitute Yourself Skinny
Boost Your Metabolism
The Complete Idiot's Guide Quinoa Cookbook
The Clean Separation
$7 Healthy Meals
$7 Quick and Easy Meals
$7 Pressure Cooker Meals
Cooking With Susan : Southern Family Favorites
My Hubby's Shrimp Ceviche Recipe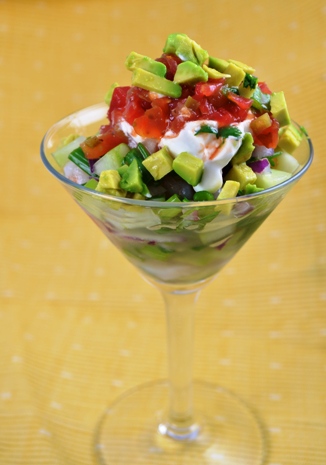 Recipe type: Yield: 8 Prep time: Cook time: Total time:
---
My husband, Chris Moore , is a real estate geniuswho leaves most of the cooking to me. But, he is also a fantastic fisherman and when it comes to sushi, ceviche, and even selecting fish, my husband takes on a whole new form of genius.
Ingredients:
juice from about 10 limes

juice from about 8 lemons

1 pound shrimp, 31-40 size, peeled and deveined, cut in half

1/2 large red onion, diced

5 medium green onions, chopped, green and white parts

1 cup chopped fresh cilantro leaves

2 serano chile peppers, seeded and diced

1 medium cucumber, partly peeled, seeded and diced

2 cups fresh tomato salsa

1 cup non-fat sour cream or non-fat plain greek yogurt

Sea salt as desired (just a pinch will do when serving)

1 fresh avocado, diced
Directions:
In a glass or ceramic mixing bowl, combine lime juice, lemon juice, and shrimp.
Cover and place in the refrigerator for one hour.
In a separate medium mixing bowl, combine red onion, green onion, cilantro, and serano chile peppers.
Stir together, cover and refrigerate while shrimp is marinating.
After one hour, stir the onion mixture into the shrimp mixture, cover and refrigerate for 2 hours.
After 2 hours, stir in the cucumber.
When ready to serve, find a pretty glass or dish and use a slotted spoon to drain the mixture and then put it into your serving dish.
Top with a dollop of sour cream or greek yogurt.
Top with 2 tablespoons of fresh salsa.
Top with 1 tablespoon of diced avocado.
Finish with a pinch of quality sea salt, if desired, and a hint of lemon zest for color.
Published on by Susan Irby