If lamb chops aren't your favorite, substitute pork chops or even white fish like tilapia. A simple preparation that infuses orange flavors, herbs, and citrus for a quick meal anytime. NOTE: This dish is renal friendly.
Lamb Chops with Orange Mustard Sauce
The Bikini Chef
Serves 2
Serving size: 1 lamb chop
1 clove garlic, minced
1 teaspoon dried rosemary
1/2 teaspoon lemon herb seasoning
2 lamb chops
2 tablespoons reduced sugar orange marmalade
1 teaspoon spicy brown mustard
1 teaspoon fine grate orange zest
1 tablespoon water
Preheat broiler. Mix garlic, rosemary, and lemon herb seasoning in a small mixing bowl. Spread onto lamb chops. Place seasoned chops under broiler and broil about 5 minutes per side.
In a small mixing bowl, combine marmalade, mustard, and orange zest with 1 tablespoon of water. Mix well. Spread marmalade mixture onto cooked lamb chops and return to broiler for 1 minute. Enjoy
Nutrition per serving:
Calories: 260
Protein: 21g
Carbohydrates: 8g
Fat: 17g
Cholesterol: 82mg
Sodium: 91mg
Potassium: 280mg
Phosphorus: 171mg
Catch The Bikini Chef on Bikini Lifestyles "Wine Dine and Workout" on AM 790 KABC radio in Los Angeles Saturday nights, 7pm PT or stream LIVE online at http://www.kabc.com Visit: http://www.bikinilifestyles.com Check your local TV listings for Bikini Lifestyles "Wine Dine and Workout" airings in your town!
Purchase books by The Bikini Chef:
The Complete Idiot's Guide Quinoa Cookbook available for pre-order on Amazon.com: http://www.amazon.com/Complete-Idiots-Guide-Quinoa-Cookbook/dp/1615641939/ref=sr_1_1?ie=UTF8&qid=1337916843&sr=8-1
In stores: July 3rd, 2012
Other books by The Bikini Chef:
Substitute Yourself Skinny
Boost Your Metabolism
$7 Healthy Meals
$7 Quick and Easy Meals
$7 Pressure Cooker Meals
Cooking With Susan : Southern Family Favorites
Follow The Bikini Chef:
Lamb Chops with Orange Mustard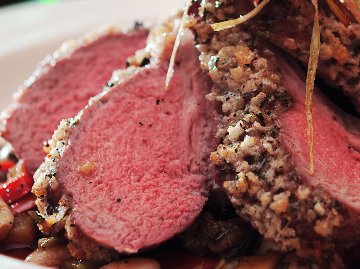 Recipe type: Yield: Prep time: Cook time: Total time:

---
Ingredients:
Directions:
Published on by Susan Irby