Lemon Cake presented by Plate-A-Cup is whisking in the water to get the right consistency – not too gooey, not too thin. Just whisk lemon pudding and pie filling together with egg yolks, water, and sugar and pour over angel food cake.
The lemon liqueur is optional but if you do skip it, add in an extra splash of lemon juice.
This recipe was recently highlighted on The Bikini Lifestyles Show
and presented by Plate-A-Cup by Eco Eats Partyware. Enjoy our recipe video here Video Recipe of the Week: Lemon Cake
And, please pardon the Lemon Souffle Glace photo. We ate the cake before remembering to take a photograph!
Nutrition:
Serves 12
Serving size: one slice
Calories:ᅠ157
Fat:ᅠ2g
Carbohydrates:ᅠ24g
Protein:ᅠ4g
Sodium:ᅠ348mg In this calorie-slashing collection, The Bikini Chef® Susan Irby offers recipes for switching up ingredients that keep calories to a minimum. Complete with serving-size suggestions and "Skinny Secret" shortcuts to trim calories in little ways, here you'll get expertly crafted recipes that include offerings for every meal of the day!
Books by The Bikini Chef®:

The Bikini Chef® Diet
Substitute Yourself Skinny
Boost Your Metabolism
The Complete Idiot's Guide Quinoa Cookbook
The Clean Separation
$7 Healthy Meals
$7 Quick and Easy Meals
$7 Pressure Cooker Meals
Cooking With Susan : Southern Family Favorites
Lemon Cake presented by Plate-A-Cup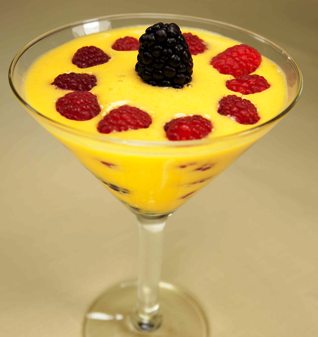 Recipe type: Yield: 12 Prep time: Cook time: Total time:
---
For lemon lovers, this delicious cake is so simple to make even your kids could make it. The key to this cake is whisking in the water to get the right consistency not too gooey, not too thin.
Ingredients:
1 angel food cake

2 1-ounce packages of sugar-free lemon pudding and pie filling

2 egg yolks

1/4 cup granulated sugar

3 1/4 cups water

2 tablespoons lemon juice

2 tablespoons limoncello or lemon liqueur
Directions:
Poke holes in the angel food cake.
In a large saucepan over medium heat, combine the pie filling, egg yolks, sugar, and 1/2 cup water.
Mix together and then stir in 2 cups of the water.
Whisk constantly with a wire whisk until mixture just begins to bubble.
Continue whisking and pour in remaining water, lemon juice and limoncello and heat until mixture begins to boil.
Remove from heat and continue stirring until mixture has thickened slightly.
Pour mixture over cake.
Serve warm or at room temperature.
Store leftover cake in the refrigerator.
Published on by Susan Irby