Matcha Energy Cakes
Maca is an ancient Peruvian root that has a flavor somewhat like cocoa powder. It improves circulation, stimulates the endocrine system and elevates mood. Matcha is a powder formed from ground whole green tea leaves giving it more antioxidant power than merely drinking green tea. This anti-cancer food helps stabilize blood sugar thereby preventing drastic mood swings and it contains compounds that have been proven to activate working memory. Both maca and matcha powders are natural healing ingredients that make easy additions to daily meals. Sprinkle either or both onto all types of salads, quinoa or jasmine rice dishes and incorporate into made-from-scratch recipes like this one for No-Bake Maca Matcha Energy Cakes.
An easy no-bake recipe, pulse ingredients in a food processor and then mold together by hand into a healthy, tasty snack that is great for pre- or post-workouts, on-the-go snacks for busy lifestyles, and great for kid's school lunches.
Key health ingredients: black sesame seeds which are a good source of calcium and help retain pigment in hair, dates are a natural source of energy and sugar to curb sugar cravings, and maca root stimulates the endocrine system as well as improves circulation.
Nutrition:
Serving size: 1 cake
Calories: 131
Fat: 8.9g
Saturated fat: 0.7g
Cholesterol: 0mg
Sodium: 0mg
Potassium: 198mg
Carbohydrates: 11.2g
Fiber: 2.7g
Sugars: 6.6g
Protein: 4.0g
Matcha Energy Cakes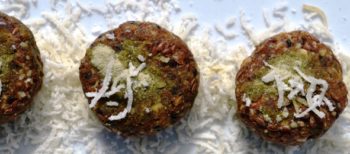 Recipe type: Yield: 36 Prep time: Cook time: Total time:
---
An easy no-bake energy cake made with matcha, almonds, dates, flax, black sesame seeds and maca root
Ingredients:
2 cups packed whole pitted dates

2 cups whole almonds

1 ¼ cups no-sugar-added almond butter

1 ½ tablespoons vanilla extract

½ cup flax meal

2 tablespoons black sesame seeds

2 teaspoons maca root powder

1 tablespoon matcha powder

unsweetened coconut flakes
Directions:
Place dates in a food processor and pulse to finely chop.
Add remaining ingredients EXCEPT coconut flakes.
Pulse several times to finely chop almonds and blend all ingredients into a crumbly paste.
Form one heaping tablespoon of the mixture into a ball about the size of a smaller golf ball.
Then, press into rounds.
Dust with coconut flakes (optional) pressing lightly to adhere.
Chill in refrigerator for at least 20 minutes.
Store in an airtight container in the refrigerator for up to 2 weeks.
Published on by Susan Irby