Lordy, Lordy, when my friends at Bo Nuage in Los Angeles came in to the studio at The Bikini Lifestyles Show, I had no idea what an art form it was to create gorgeous Mini Meringue Cakes with Lemon Whipped Cream in the Bo Nuage-style.
Their cakes were so light and luscious that I just had to give it a whirl to make my own; especially since I had forgotten to place my order with Bo Nuage in time for the then upcoming Easter holiday.
A kitchen coated in egg whites, sugar, and sprinkles later, here is what I learned about meringue cookies, cakes, how to make whipped cream that lasts, and of course, my Mini Meringue Cakes recipes. Meringue cookies are transformed into mini cakes filled and coated with lemon or coconut whipped cream and decorative sprinkles.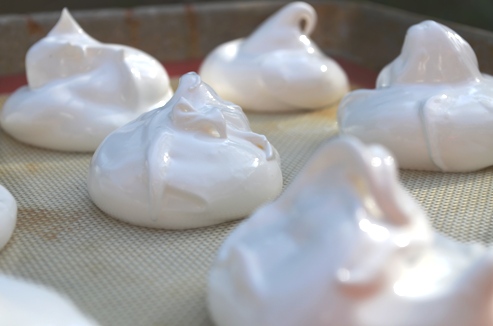 Tips on making meringue:
*Dry, dry, dry is the word. Dry climates, dry mixing bowls, dry spatulas – moisture is the meringue enemy
*Superfine sugar makes a difference. Superfine sugar is sugar that has been ground up into tiny little granules. I did not have superfine sugar so, I ground my own granulated sugar in a mini food processor for about 1 minute. I know, I know, I talk all the time about how bad sugar is for you. And yes, it is. But, sometimes, it is impossible to get around. Keep your sugar highs to fun times in the kitchen, like this one, and share your delicious results with your neighbors. They will love you forever.
*Slow and low overkill. I had experienced many times cooking roasts, ribs, and other savory foods slow and low in the oven. Making meringue cakes and cookies takes the term "slow and low" to a whole 'nother level. Be prepared… the oven is set to 200* and these tasty treats cook for hours, shorter for cookies, longer for cakes.
*Stiff peaks make a difference. Period. Make sure your pre-baked whipped egg whites are whipped to stiff peaks.
*Make sure you have nothing else you want to bake for several hours. In fact, if you begin making them during the day, order out for dinner that night.
Tips on making whipped cream that lasts:
How many times have you made homemade whipped cream only to have it lag and sag and lose its "whippedness" within hours or for sure, overnight? Fret no more. For whipped cream that lasts…
*Use 2 tablespoons of neufchatel cheese mixed with 2 tablespoons of lowfat or nonfat sour cream. Laugh all you want but a little less fat does help.
*Other suggestions include using gelatin, cornstarch, creme fraiche. I used my suggestion and it worked perfectly and it's slightly healthier – if you don't count all the sugar and whipped cream.
Make the meringue cookies first then worry about the whipped cream filling. Trust me, you'll have plenty of time for whipping cream.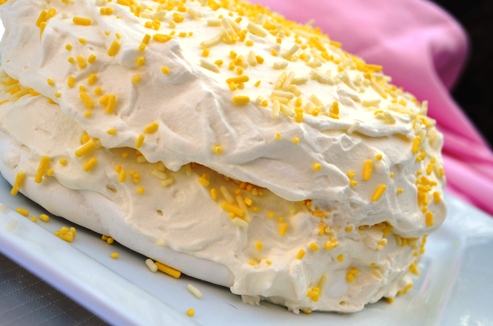 Nutrition:
Serving size: 1 Mini Meringue Cake with Lemon Whipped Cream Filling
Calories: 198
Fat: 9.0g
Saturated fat: 5.6g
Cholesterol: 31mg
Sodium: 74mg
Potassium: 88mg
Carbohydrates: 26.5g
Fiber: NA
Sugars: 25.7g
Protein: 3.3g
Notes on serving:
For Mini Meringue Cakes, serve whole and let everyone have fun eating them with a fork and a knife or with their fingers. For larger Meringue cakes, use a cake knife and slice straight down in the center of the cake and then quickly make a slice. In this calorie-slashing collection, The Bikini Chef® Susan Irby offers recipes for switching up ingredients that keep calories to a minimum. Complete with serving-size suggestions and "Skinny Secret" shortcuts to trim calories in little ways, here you'll get expertly crafted recipes that include offerings for every meal of the day!
Books by The Bikini Chef®:

The Bikini Chef® Diet
Substitute Yourself Skinny
Boost Your Metabolism
The Complete Idiot's Guide Quinoa Cookbook
The Clean Separation
$7 Healthy Meals
$7 Quick and Easy Meals
$7 Pressure Cooker Meals
Cooking With Susan : Southern Family Favorites
Mini Meringue Cakes with Lemon Whipped Cream
Recipe type: Yield: 12 Prep time: Cook time: Total time:
---
Bo Nuage in Los Angeles came in to the studio at The Bikini Lifestyles Show, I had no idea what an art form it was to create gorgeous meringue cakes in the Bo Nuagestyle.
Ingredients:
For meringue cookies or cakes:

6 large egg whites

1/2 teaspoon cream of tartar

1 1/2 cups superfine sugar (see notes above)

1/2 teaspoon vanilla extract

For whipped cream:

2 cups whipping cream

4 tablespoons lowfat sour cream

4 tablespoons neufchatel cream cheese

2 tablespoons lemon extract

Coconut flakes, chocolate shavings, decorative sprinkles (optional)
Directions:
Order up a very low humidity day 🙂 and preheat oven to 200*.
Line 2 baking sheets with parchment paper or use a silpat.
Beat the egg whites on low to medium speed in your electric mixer with whisk attachment until the egg whites are foamy.
Add the cream of tartar and continue whisking until whites hold soft peaks.
Add the sugar in 1/4 cup increments, preferably drizzling in as you continue whisking; increase the speed a little bit and whisk until the whites hold very stiff peaks.
Whisk in the vanilla extract.
Note: You know the egg white mixture is complete when it holds stiff peaks AND when you rub a little of the mixture between your fingers and it does not feel gritty. If the mixture feels gritty, continue whisking until smooth – the sugar has then dissolved.
If using parchment paper to line your baking sheets, dab a little meringue underneath each corner to secure the paper.
Using two tablespoons, spoon dollops of meringue onto the prepared baking sheets, allowing a little space between each dollop (don't overcrowd); don't make dollops too perky with peaks.
Bake for 1 1/2 to 1 3/4 hours for traditional size meringue cookies, rotating baking sheet front to back halfway through baking.
Do not open the oven door during the first half of baking time.
Note: If making large meringue cakes, baking time can last up to 3 hours or more.
Turn off the oven, crack oven door open, and leave the cookies for 4 to 5 hours or overnight.
Completed meringues can be stored in an airtight container at room temperature for a week.
More notes on meringue cookies: Make lemon, peppermint or other flavored meringue cookies by substituting the corresponding extract in place of vanilla extract. Or use a little of both.
To make the whipped cream:
In a clean electric mixer, begin whipping cream on low to medium-low speed until cream begins to come together.
Increase speed to medium high and continue to whip until just before soft peaks hold.
While mixtuure is still whisking, quickly add in the sour cream / cheese mixture, paying careful attention not to hit the whisk while it's moving. If you don't feel comfortable with that, stop the mixer, add and then re-start.
Add in lemon extract and whisk until stiff peaks form but do not overwhisk.
Note: for flavored whipped cream, add 2 tablespoons of your favorite extract or flavoring such as grand marnier, coconut, or peppermint or skip the extract and add lemon and orange zest.
To make mini meringue cakes:
Spread a heaping tablespoon of whipped cream onto the flat side of one cookie and sandwich with another cookie.
Place cookie on a flat work surface and use a small offset spatula or small knife to coat the sides of the cookies with whipped cream.
If desired, delicately roll the covered cookie in decorative sprinkles such as lemon or multi-colored sprinkles, chocolate shavings, coconut shavings, or other desired coating.
Covering the top of the mini meringue cake with whipped cream and finish by adding a small amount of desired sprinkles or shavings to the top.
Refrigerate until ready to eat.
Published on by Susan Irby