The Bikini Chef® Snack
Prep time: 2 mins
Cook time: 5 mins
Total time: 7 mins
Serves: 5
Popcorn is high in fiber, pleases the palette with a satisfying crunch, and can be flavored with healthy ingredients like paprika, cayenne, lemon pepper and more delicious seasonings. Skip the butter and sugary cookies… pop a batch of popcorn and enjoy as a quick snack or settle in for movie night!
1/4 cup freshly grated parmesan cheese
2 teaspoons paprika
Sea Salt and Pepper to taste
1 tbsp canola oil
1/4 cup popcorn kernels
Mix the parmesan, paprika, salt and pepper in small bowl and set aside.
Heat the canola oil and 3 popcorn kernels in medium saucepan over medium-high heat.
When 1-2 of the kernels pop, reduce the heat to medium and add the remaining kernels.
Cover and cook, shaking the pan occasionally, until popping subsides. (Approx 2 mins).
Transfer the popcorn to a large bowl lined with a paper towel.
Sprinkle with the parmesan mixture and toss.
In this calorie-slashing collection, The Bikini Chef® Susan Irby offers recipes for switching up ingredients that keep calories to a minimum. Complete with serving-size suggestions and "Skinny Secret" shortcuts to trim calories in little ways, here you'll get expertly crafted recipes that include offerings for every meal of the day!
Books by The Bikini Chef®:

The Bikini Chef® Diet
Substitute Yourself Skinny
Boost Your Metabolism
The Complete Idiot's Guide Quinoa Cookbook
The Clean Separation
$7 Healthy Meals
$7 Quick and Easy Meals
$7 Pressure Cooker Meals
Cooking With Susan : Southern Family Favorites
Parmesan-Paprika Popcorn!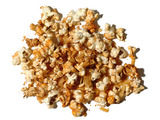 Recipe type: Yield: 4 Prep time: Cook time: Total time:
---
Check your local TV listings for Bikini Lifestyles "Wine Dine and Workout" airings in your town! Purchase books by The Bikini Chef®The Complete Idiot's Guide Quinoa Cookbook available for preorder on Amazon.com
Ingredients:
Directions:
Published on by Susan Irby