Roasted Korean Chicken Wings from the Flavors of Aloha, cooking with Tommy Bahama cookbook
Tommy Bahama is not only known for their stylish clothes and home furnishings, but also for the incredibly delicious food at their celebrated restaurants. I've always loved the concept of having lunch and shopping, and Tommy Bahama restaurants make it super easy for you.
Now, Tommy Bahama invites you to cook with them through their new cookbook, Flavors of Aloha. Over 100 recipes fill the book and a great many of the recipes are bikini-friendly and feature full color photographs of the dishes. Famed Chef Rick Rodgers, who has authored over 40 different cookbooks, artfully created each recipe making sure to stay true to the culinary traditions of Hawaii but keeping the recipes simple enough that you can actually enjoy making them at home.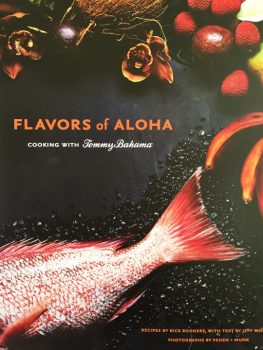 Recently, Tommy Bahama NB restaurant in Newport Beach shared a sampling of over 14 different recipes from the book.


Lucky me, Chef Rick Rodgers – who created all of the recipes in the cookbook – was on hand to explain them. Here's the "dish" on the tasting dinner and a few of the featured recipes.


Appetizers:
Roasted Korean Chicken Wings (recipe included below)
Gochujang (Korean chili paste), Soy, Honey, Ginger and Sesame. *NOTE: In this photo, taken at the cookbook tasting dinner, the chef at Tommy Bahama Newport Beach used large chicken wing drumettes and scraped the wing down to make it more plump and tidy looking. For cooking at home, it's easy to prepare it the way Chef Rick Rodgers did in the recipe photo below.


Sweet Maui Onion & Bacon Dip
Sweet Maui Onion and bacon are mixed with chives and served with taro root chips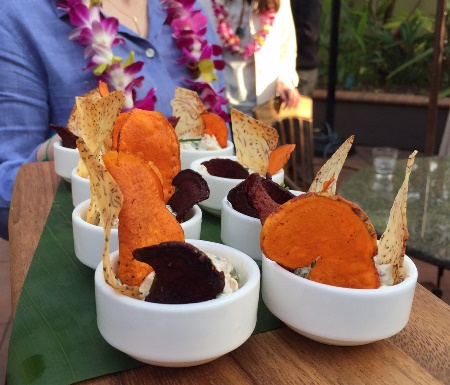 Coconut & Curry Marinated Pork Satay
Pork is marinated in coconut and curry, char-grilled and served with peanut sauce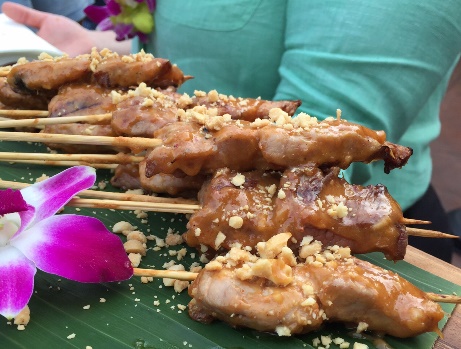 World Famous Coconut Shrimp
Trust me, these are world famous! Some of the best coconut shrimp you will ever have. Shrimp are dipped in coconut and served with Papaya-Mango Chutney and Asian Slaw (yep, the recipes are in the book!)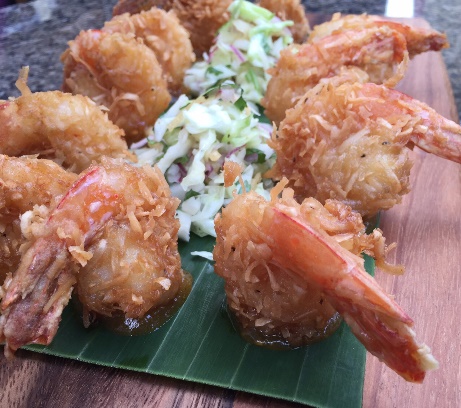 Ahi Tuna Poke
Sushi grade tuna with capers, sesame, guacamole in a sesame cone


Salad:
Green Papaya and Chilled Shrimp
Julienne carrots, vine ripe tomatoes, cilantro, chopped peanuts, hand squeezed lime are served with green papaya and shrimp


And that's only a sampling of the tasting menu… the full tasting menu will be featured at bikinilifestyles.com soon!
All of these recipes are in the Tommy Bahama Flavors of Aloha cookbook!
COOKBOOK GIVEAWAY!! The perfect gift for Dad for Father's Day… ENTER TO WIN an autographed copy of the Flavors of Aloha cooking with Tommy Bahama cookbook, here =>> Flavors of Aloha cookbook
Recipe published with permission from Tommy Bahama. Photographs by Susan Irby, except where noted. In this calorie-slashing collection, The Bikini Chef® Susan Irby offers recipes for switching up ingredients that keep calories to a minimum. Complete with serving-size suggestions and "Skinny Secret" shortcuts to trim calories in little ways, here you'll get expertly crafted recipes that include offerings for every meal of the day!
Books by The Bikini Chef®:

The Bikini Chef® Diet
Substitute Yourself Skinny
Boost Your Metabolism
The Complete Idiot's Guide Quinoa Cookbook
The Clean Separation
$7 Healthy Meals
$7 Quick and Easy Meals
$7 Pressure Cooker Meals
Cooking With Susan : Southern Family Favorites
Roasted Korean Chicken Wings
Recipe type: Yield: 6 Prep time: Cook time: Total time:
---
Now, Tommy Bahama invites you to cook with them through their new cookbook, Flavors of Aloha. Over 100 recipes fill the book and a great many of the recipes are bikini-friendly and feature full color photographs of the dishes. Famed Chef Rick Rodgers, who has authored over 40 different cookbooks, artfully created each recipe making sure to stay true to the culinary traditions of Hawaii
Ingredients:
FOR MARINADE:

1/4 cup soy sauce

2 tablespoons honey

2 tablespoons Chinese rice wine or dry sherry

2 green onions, white and green parts, minced

1 tablespoon peeled and minced fresh ginger

2 garlic cloves, minced

4 pounds of chicken wings, cut between the joints, wing tips trimmed (see note)

FOR SAUCE:

1/3 cup gochujang (Korean chili paste)

3 tablespoons soy sauce

2 tablespoons unseasoned rice vinegar

2 tablespoons honey

1 tablespoon Asian sesame oil

1 tablespoon peeled and minced fresh ginger

4 garlic cloves

sesame seeds, for garnish
Directions:
Make marinade by whisking the ingredients together with 2 tablespoons of water in a large bowl.
Add the chicken wings and stir to coat.
Cover with plastic wrap and refrigerate for 2 to 4 hours.
Position rack in the center of the oven and preheat the oven to 425*F.
Line a large rimmed baking sheet with aluminum foil and lightly oil the foil.
Remove the chicken wings from the marinade, discarding the marinade.
Arrange the wings on the prepared baking sheet.
Roast for 20 minutes.
Flip the wings over, and continue roasting until the wings are well browned and tender, about 25 minutes longer.
Meanwhile, whisk the ingredients for the sauce together in a large bowl.
Set aside while chicken is roasting to blend the flavors.
Using tongs, transfer the chicken wings to the sauce in the bowl.
Mix the wings well to coat them.
Transfer to a platter.
Sprinkle with the sesame seeds and serve with plenty of napkins.
NOTE: Cut-up chicken wings (labeled drumettes or wingettes) tend to be frozen and give off a lot of liquid during roasting that discourages browning. For the best results, buy whole wings and cut them up at home, discarding the wing tips or saving them for another use (such as making a small batch of chicken stock.)
Published on by Susan Irby