Recipe Type: Side Dish
Prep time: 15 mins
Cook time: 40 mins
Total time: 45 mins
Serves: 6-8
Fresh rosemary and thyme bring life to roasted new potatoes and extra virgin olive oil. Perfect as a side dish to grilled protiens like steak, chicken, and fish.
2 lbs new potatoes, rinsed & quartered
3 Tbsp Herb Oil, recipe below
2 garlic cloves, minced
pinch sea salt
pinch fresh ground black pepper
Preheat oven to 375*. Line a baking sheet with parchment paper.
In a large mixing bowl, toss potatoes with oil, garlic, salt and pepper.
Spread potatoes on baking sheet and bake for 40 to 45 minutes or until fork-tender and appear to have a roasted color.
To prepare Herb Oil:
3 cups olive oil
1 tablespoon chopped fresh rosemary leaves
1 tablespoon chopped fresh thyme leaves
Combine olive oil with rosemary and thyme in a small saucepan over medium-low heat and bring to a simmer. Simmer for 5 minutes, paying attention not to allow to boil at all. Remove from heat and let rest for 30 minutes. Place in a bottle or airtight container until ready to use. Store in the refrigerator.
Roasted Potatoes with Herb Oil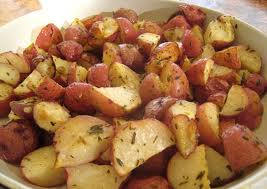 Recipe type: Yield: 4 Prep time: Cook time: Total time:
---
Catch The Bikini Chef® on Bikini Lifestyles "Wine Dine and Workout" on AM 790 KABC radio in Los Angeles Saturday nights, 7pm PT or stream LIVE online at KABC.com
Ingredients:
Directions:
Published on by Susan Irby