Recipe Type: Salad
Prep time: 10 mins
Cook time: 8 hours
Total time: 8 hours 10 mins
Serves: 6 to 8
Slow cooking the chicken makes it super tender and flavorful. This delicious chicken salad is a meal all in one complete with protein, fiber, and packed full of flavor. Use this recipe for leftover bbq chicken, too, and save yourself loads of time!
2 pounds boneless, skinless chicken breasts
1 1/2 cups bbq sauce of your choice
6 cups mixed geens
1 1/2 cups black beans, rinsed
1 cup grape tomatoes, halved
3/4 cup fresh cilantro, chopped
1-1/2 cups low-fat shredded cheddar cheese
1 cup fresh or frozen kernel corn
1 cup chopped red onion
2 avocados, thickly sliced crosswise
pinch of sea salt per serving
pinch of black pepper per serving
2 limes, quartered
Place chicken in a crock pot with your choice of BBQ Sauce.

Turn on low for 8 hours.

Place cooked chicken in a medium or large mixing bowl and shred with a fork.

In a separate large mixing bowl, toss together mixed greens, black beans, tomatoes, cilantro, cheese, corn, and onion.

Place 1 1/2 cups mixed green mixture on serving plate and top with 3/4 cup chicken.

Top with avocado slices and finish with a pinch of sea salt, black pepper, and squeeze of fresh lime.
Catch The Bikini Chef on Bikini Lifestyles "Wine Dine and Workout" on AM 790 KABC radio in Los Angeles Saturday nights, 7pm PT or stream LIVE online at http://www.kabc.com Visit: http://www.bikinilifestyles.com Check your local TV listings for Bikini Lifestyles "Wine Dine and Workout" airings in your town!
The Complete Idiot's Guide Quinoa Cookbook available for pre-order on Amazon.com: http://www.amazon.com/Complete-Idiots-Guide-Quinoa-Cookbook/dp/1615641939/ref=sr_1_1?ie=UTF8&qid=1337916843&sr=8-1
In stores: July 3rd, 2012
Other books by The Bikini Chef:
Substitute Yourself Skinny
Boost Your Metabolism
$7 Healthy Meals
$7 Quick and Easy Meals
$7 Pressure Cooker Meals
Cooking With Susan : Southern Family Favorites
Shredded Chicken Salad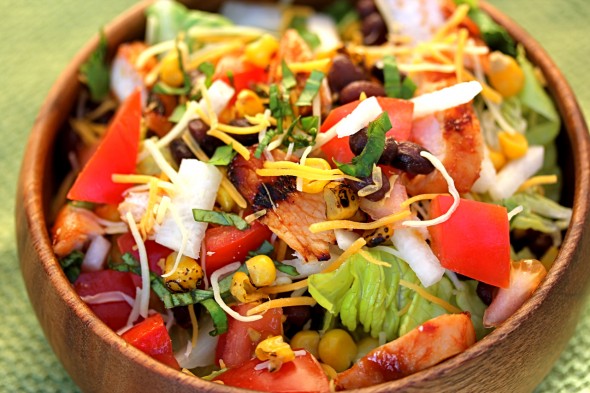 Recipe type: Yield: 4 Prep time: Cook time: Total time:

---
Check your local TV listings for Bikini Lifestyles "Wine Dine and Workout" airings in your town! Purchase books by The Bikini Chef The Complete Idiot's Guide Quinoa Cookbook available for preorder on Amazon.com
Ingredients:
Directions:
Published on by Susan Irby