Recipe Type: Entree
Prep time: 20 mins
Cook time: 3 hours
Total time: 3 hours, 20 mins plus soak beans overnight
Serves: 4
This Mardi Gras classic takes a healthier twist with protein-rich quinoa. Delicious any time of year, here shrimp is used. Perfect for the family or single guy or gal on the go, make ahead and freeze for later use. If you don't eat shrimp, substitute chopped cooked chicken breasts, sliced lean turkey sausage, or a little not-so-lean andouille sausage.
1 pound dry kidney beans
3 tablespoons olive oil
1 large white or yellow onion, chopped
1 medium green bell pepper, seeded and sliced into thin strips
2 cloves garlic, minced
2 celery stalks, roughly chopped
3 cups water
3 cups vegetable broth
2 crushed bay leaves
1/2 teaspoon cayenne pepper
1 teaspoon dried thyme
1/4 teaspoon dried sage
1 tablespoon dried parsley
1 teaspoon cajun seasoning
4 cups cups water
2 cups uncooked, rinsed quinoa or long grain white rice
2 pounds large shrimp, peeled and deviened
1 tablespoon extra virgin olive oil
fine zest of 1 lemon
1 tablespoon chopped fresh thyme leaves
Finely grated fresh parmesan cheese, about 4 tablespoons
Directions
Rinse beans, and then soak in a large pot of water overnight. In a skillet, heat 2 tablespoons of olive oil over medium heat. Cook onion, bell pepper, garlic, and celery in olive oil for 3 to 4 minutes. Rinse beans, and transfer to a large pot with 3 cups water and 3 cups vegetable broth. Stir onion and bell pepper mixture into beans. Season with bay leaves, cayenne pepper, thyme, sage, parsley, and Cajun seasoning. Bring to a boil, and then reduce heat to medium-low. Simmer for 2 1/2 to 3 hours, adding a little water or vegetable broth if needed.
Meanwhile, prepare the quinoa (or rice). In a saucepan, bring water and quinoa to a boil. Reduce heat, cover, and simmer for 15 minutes. *If using rice, add 5 minutes of cooking time.
Toss shrimp with remaining 1 tablespoon of olive oil. Heat grill pan or skillet over medium heat. Add shrimp and cook until just pink, about 3 minutes. Serve shrimp whole or chop into large pieces. Set aside.
To serve, place quinoa on serving plate and top with red beans and shrimp. Finish with a pinch of fresh thyme leaves, lemon zest, and freshly grated parmesan cheese (about 1/2 tablespoon). Serve warm.

Catch The Bikini Chef® on Bikini Lifestyles "Wine Dine and Workout" on AM 790 KABC radio in Los Angeles Saturday nights, 7pm PT or stream LIVE online at http://www.kabc.com Visit: http://www.bikinilifestyles.com Check your local TV listings for Bikini Lifestyles "Wine Dine and Workout" airings in your town!
The Complete Idiot's Guide Quinoa Cookbook available for pre-order on Amazon.com: http://www.amazon.com/Complete-Idiots-Guide-Quinoa-Cookbook/dp/1615641939/ref=sr_1_1?ie=UTF8&qid=1337916843&sr=8-1
In stores: July 3rd, 2012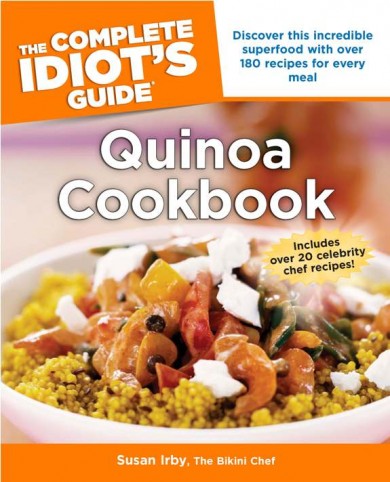 Other books by The Bikini Chef®:
Substitute Yourself Skinny
Boost Your Metabolism
$7 Healthy Meals
$7 Quick and Easy Meals
$7 Pressure Cooker Meals
Cooking With Susan : Southern Family Favorites
In this calorie-slashing collection, The Bikini Chef® Susan Irby offers recipes for switching up ingredients that keep calories to a minimum. Complete with serving-size suggestions and "Skinny Secret" shortcuts to trim calories in little ways, here you'll get expertly crafted recipes that include offerings for every meal of the day!
Books by The Bikini Chef®:

The Bikini Chef® Diet
Substitute Yourself Skinny
Boost Your Metabolism
The Complete Idiot's Guide Quinoa Cookbook
The Clean Separation
$7 Healthy Meals
$7 Quick and Easy Meals
$7 Pressure Cooker Meals
Cooking With Susan : Southern Family Favorites
Shrimp with Red Beans and Quinoa
Recipe type: Yield: 4 Prep time: Cook time: Total time:
---
In stores July 3rd, 2012 Other books by The Bikini Chef® Substitute Yourself Skinny, Boost Your Metabolism, $7 Healthy Meals, $7 Quick and Easy Meals, $7 Pressure Cooker Meals, Cooking With Susan Southern Family Favorites
Ingredients:
Directions:
Published on by Susan Irby