These low-calorie flavorful muffins get their fat from coconut oil and nutrition-rich almonds. A good source of protein, these muffins are good to enjoy for breakfast or pre-workout for positive energy to sustain you through your morning or workout.
What sets these Strawberry Orange Muffins apart from others? Simple and delicious orange zest and fresh strawberries; so good that even kids will love them!
Nutrition:
Calories: 101
Fat: 3.6g
Saturated fat: 2.2g
Cholesterol: 16mg
Sodium: 203mg
Carbohydrates: 14.5g
Sugar: 4.4g
Fiber: 0.8g
Protein: 2.8g
Nutrition profile from CalorieCount.com recipe analyzer

Strawberry Orange Muffins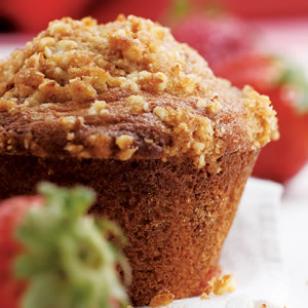 Recipe type: Yield: 12 Prep time: Cook time: Total time:

---
Fresh strawberries, orange zest, coconut oil, and almonds give both flavor and nutrients to these energy boosting muffins
Ingredients:
3 tablespoons chopped almonds

2 tablespoons plus 3/4 cup all-purpose flour, divided

2 tablespoons plus 1/2 cup brown sugar, divided

3 teaspoons freshly grated orange zest, divided

1/2 teaspoon sea salt, divided

2 tablespoons plus 1/4 cup coconut oil, divided

1 cup white whole-wheat flour , or whole-wheat pastry flour

2 teaspoons baking powder

1 teaspoon baking soda

3/4 cup nonfat buttermilk

1/4 cup orange juice

1 large egg

1 teaspoon vanilla extract

1 1/2 cups chopped fresh (not frozen) strawberries, (about 8 ounces)
Directions:
Preheat oven to 400°F.
Coat a 12-cup muffin pan lightly with cooking spray.
Process almonds, 2 tablespoons all-purpose flour, 2 tablespoons brown sugar, 1 teaspoon orange zest and 1/4 teaspoon salt in a food processor until finely ground.
Transfer to a small bowl and drizzle with 2 tablespoons coconut oil and stir to combine.
Whisk the remaining 3/4 cup all-purpose flour, whole-wheat flour, baking powder, baking soda and the remaining 1/4 teaspoon salt in a large bowl.
Whisk the remaining 1/2 cup brown sugar, 2 teaspoons orange zest and 1/4 cup coconut oil in a medium bowl with buttermilk, orange juice, egg and vanilla extract until well combined.
Make a well in the center of the dry ingredients and pour in the wet ingredients; stir until just combined.
Add strawberries; stir just to combine.
Divide the batter among the prepared muffin cups.
Sprinkle with the almond topping, gently pressing into the batter.
Bake the muffins until golden brown and a wooden skewer inserted in the center comes out clean, 18 to 20 minutes.
Let cool in the pan for 10 minutes, then transfer to a wire rack to cool for at least 5 minutes more before serving.
Published on by Susan Irby