Follow Chef Jess for healthy recipes and daily motivation on Facebook and Twitter!
Yes, you can eat away your stress with stress reducing foods! According to research there are plenty of tasty foods out there that will help you relieve your stress. So the next time you're stuck in traffic, the boss is riding you about your latest project or the kids are running wild, just grab a big ol' bowl of ᅠlutein, zea-xanthin, carotenes, and crypto-xanthins! In layman's terms you could just grab some asparagus, wouldn't want to stress you out too much while reading this :-).
Best Stress Reducing Foods:
Asparagus
Contain many B vitamins and folic acid. These minerals are necessary when producing the 'good mood' chemical in your body, called serotonin. This is the chemical where happy feelings come from.
Cantaloupe
This fruit is filled with vitamin C, which has been proven to reduce your stress level.
Seaweed
That salmon roll will definitely help! It is packed with anti-stress elements such as magnesium. Tip: try your next roll with brown rice instead of white to boost up your complex carbohydrate intake.
Avocados
Containing more potassium than a banana! Combine this with its healthy fat content and you got one stress reducing power house!
On the flipside there are foods that you should watch out for. Be mindful of alcohol, highly caffeinated foods, and processed foods; these items can be a real drag and actually add stress to your body.
Enjoy this quick, easy, stress-reducing recipe!
Nutrition per serving:
Calories: 90.1
Fat: 5.4g
Saturated fat: 0.7g
Carbohydrates: 10.1g
Protein: 2.7g
Fiber: 3.3g
Sodium: 21.5mg
And, this recipe packs over 354mg of potassium! In this calorie-slashing collection, The Bikini Chef® Susan Irby offers recipes for switching up ingredients that keep calories to a minimum. Complete with serving-size suggestions and "Skinny Secret" shortcuts to trim calories in little ways, here you'll get expertly crafted recipes that include offerings for every meal of the day!
Books by The Bikini Chef®:

The Bikini Chef® Diet
Substitute Yourself Skinny
Boost Your Metabolism
The Complete Idiot's Guide Quinoa Cookbook
The Clean Separation
$7 Healthy Meals
$7 Quick and Easy Meals
$7 Pressure Cooker Meals
Cooking With Susan : Southern Family Favorites
Stress Reducing Foods!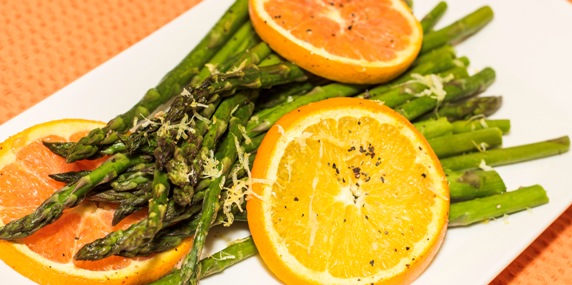 Recipe type: Yield: 4 Prep time: Cook time: Total time:
---
Chef Jess is an experienced chef with a Master's Degree in Nutritional Sciences. She provides her expertise to many individuals, groups and corporate settings in the Washington DC area.
Ingredients:
1 bunch fresh asparagus, stems trimmed

1 large orange, (or other citrus fruit) sliced

1 1/2 tablespoons olive oil

1/8 teaspoon garlic powder

pinch of cayenne pepper

sea salt to taste

black pepper to taste
Directions:
Preheat ovent to 400*F.
Line baking sheet with parchment paper.
Combine asparagus wtih all ingredients in a large bowl, making sure the asparagus is covered with the juice from the oranges and the seasonings are distributed evenly.
Lay asparagus on the prepared baking sheet.
Place in oven and roast for 15 to 20 minutes or until just tender.
Divide equally amongst four serving plates and enjoy!
Published on by Susan Irby