A classic dish using fat free ricotta and fressh ingredients for a healthy #SOBikini twist. 
Jumbo pasta shells
1 egg, beaten
16  ounce fat-free ricotta cheese
1/2 lb. shredded mozzarella cheese, low-fat, divided
1/4 lb. grated Parmesan cheese, divided
1-1/2 teaspoons fresh Italian flat-leaf parsley
1 teaspoon sea salt
1/2 teaspoon ground black pepper
pasta sauce
1/4 lb. sliced fresh mushrooms
1. Preheat oven to 350 degrees.
2. Cook pasta shells and drain.
3. In a large bowl mix egg, ricotta, 1.4 lb. mozzarella, 1.8 lb. parmesan, parsley, salt and pepper.
3. Stuff the shells with above mixture and place into baking dish.
4. In separate bowl, mix pasta sauce, mushrooms, and cheese reserves. Pour mixture over shells.
5. Bake 45-60 mins- until edges are bubbly.
Serves: 4-6
Catch The Bikini Chef on Bikini Lifestyles "Wine Dine and Workout" on AM 790 KABC radio in Los Angeles Saturday nights, 7pm PT or stream LIVE online at http://www.kabc.com Visit: http://www.bikinilifestyles.com Check your local TV listings for Bikini Lifestyles "Wine Dine and Workout" airings in your town!
The Complete Idiot's Guide Quinoa Cookbook available for pre-order on Amazon.com: http://www.amazon.com/Complete-Idiots-Guide-Quinoa-Cookbook/dp/1615641939/ref=sr_1_1?ie=UTF8&qid=1337916843&sr=8-1
In stores: July 3rd, 2012
Other books by The Bikini Chef:
Substitute Yourself Skinny
Boost Your Metabolism
$7 Healthy Meals
$7 Quick and Easy Meals
$7 Pressure Cooker Meals
Cooking With Susan : Southern Family Favorites
Stuffed Shells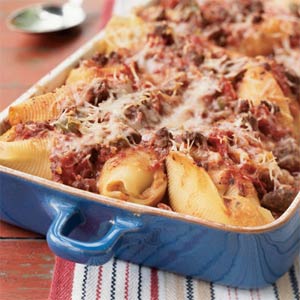 Recipe type: Yield: 4 Prep time: Cook time: Total time:

---
In stores July 3rd, 2012 Other books by The Bikini Chef Substitute Yourself Skinny, Boost Your Metabolism, $7 Healthy Meals, $7 Quick and Easy Meals, $7 Pressure Cooker Meals, Cooking With Susan Southern Family Favorites
Ingredients:
Directions:
Published on by Susan Irby