Vegan Pancakes with Berries
Who says you have to be a true, hard-core vegan to enjoy vegan foods? I've slowly cut out all dairy except for a little goat cheese here and there, and have stopped using most gluten flours and I am not gluten sensitive. Why you may ask? It just feels better! And, quite frankly, I believe it tastes better, too.
Chickpea flour, almond meal, cinnamon, raw honey, almond milk and berries make this a pancake breakfast favorite. The chickpea flour and almond meal give the pancakes a rich, creamy texture. To balance out the nut flavor, I added a little raw honey and cinnamon and added the sweetness of fresh berries. For the goat cheese lovers, this could be made into a healthier cheese blintze by serving with warm goat cheese.
Try it… you just may be more vegan than you think!
Nutrients Per Serving:
Calories:232
Protein:7g
Carbs:36g
Fat:7g
Cholesterol:53mg
Sodium:358mg
Vegan Pancakes with Berries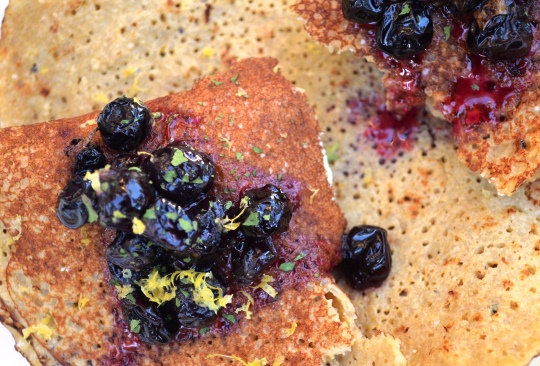 Recipe type: Yield: 4 Prep time: Cook time: Total time:

---
Simply delicious pancakes made with chickpea flour, almond meal, cinnamon and berries
Ingredients:
1 cup chickpea flour

1/4 cup almond meal

1 tablespoon raw honey

1 1/4 cups almond milk

1/8 teaspoon cinnamon

1 egg replacer

1/4 cup grapeseed oil

1/4 cup plus 1 tablespoon fresh mixed berries of blueberries and raspberries (or your favorites)

All-natural fruit puree, as desired

Grass-fed butter, as needed

organic maple syrup, as needed
Directions:
In a medium mixing bowl, mix together chickpea flour, almond meal, and honey.
In a separate bowl, whisk together almond milk substitute, cinnamon, egg replacer, and grapeseed oil.
Add egg mixture to dry mixture and stir until just combined; do not over-mix.
Stir in berries until just combined.
Spray a non-stick saute pan with cooking spray and heat over medium heat.
Use a 1/4 cup measure to drop batter onto heated saute pan.
Cook until edges are dry and top is bubbly.
Turn and cook about 15 seconds longer.
NOTE: For thinner pancakes, add a little water to the batter.
Serve with a fruit puree such as strawberry or apricot or a little grass fed butter and maple syrup.
Published on by Susan Irby