Wildflower Honey-Poached Forelle Pear Salad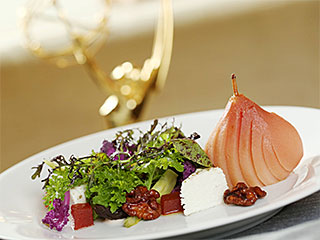 67th Emmy® Awards Governors Ball Dinner, for the 20th year in a row, is planned and prepared by Chef and Founder, Joachim Splichal of Patina Restaurant Group.
Among the dishes for the 3-course meal that will be prepared for over 4,000 celebrities and guests is this incredible poached pear salad. Hosting your own EMMY® party? Recreate this delicious salad for your celebrity guests:
In true gourmet celebrity chef fashion, Executive Chef Joachim uses only the finest and freshest ingredients. In this recipe, there may be a couple of ingredients you are not sure of. Let's start with the pears. Forelle pears are small pears commercially grown in the Northwest USA. Sweet in flavor, forelle pears are available late September through March and can be found in most grocery stores. Then, you will need Membrillo Quince, a type of quince cheese that is a thick jelly made from the pulp of quince fruit and is available at specialty grocery markets.
When ready to serve, the poached pears are served with lavender and fennel-scented Sonoma goat cheese, fresh figs, spiced walnuts and quince vinaigrette.
Cooking like a gourmet celebrity chef requires patience! Break the recipe down step by step. Read the recipe through all the way BEFORE going to the store to buy the ingredients. Prep the ingredients BEFORE starting to cook. Read the recipe all the way through, again, before beginning. You'll find it easier to understand and less intimidating to make by reading the ingredients and instructions before shopping and prepping!
The 67th Emmy® Awards, hosted by Andy Samberg, airs live Sunday, September 20 (8:00 PM ET/5:00 PM PT) on FOX and will originate from the Microsoft Theater in Los Angeles. Don Mischer will serve as executive producer for the telecast. In this calorie-slashing collection, The Bikini Chef® Susan Irby offers recipes for switching up ingredients that keep calories to a minimum. Complete with serving-size suggestions and "Skinny Secret" shortcuts to trim calories in little ways, here you'll get expertly crafted recipes that include offerings for every meal of the day!
Books by The Bikini Chef®:

The Bikini Chef® Diet
Substitute Yourself Skinny
Boost Your Metabolism
The Complete Idiot's Guide Quinoa Cookbook
The Clean Separation
$7 Healthy Meals
$7 Quick and Easy Meals
$7 Pressure Cooker Meals
Cooking With Susan : Southern Family Favorites
Wildflower Honey-Poached Forelle Pear Salad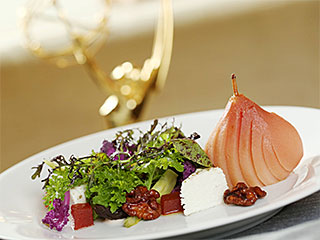 Recipe type: Yield: 4 Prep time: Cook time: Total time:
---
Poached pears are served with lavender and fennel-scented Sonoma goat cheese, fresh figs, spiced walnuts and quince vinaigrette
Ingredients:
4 Forelle pears, peeled

4 ounces wildflower honey

4 ounces unsalted butter

Baby fennel, cut in small wedges

½ cup rice wine vinegar

6 tablespoons sugar

2 teaspoons kosher salt

8 ounces fresh goat cheese, seasoned with dried lavender and fennel pollen

1 cup walnut halves

1 cup sugar

4 ounces membrillo quince

¼ cup sherry vinegar

½ cup extra virgin olive oil

Salt and fresh ground black pepper

4 fresh black mission figs, halved

4 ounces spicy petite lettuces
Directions:
For the fennel:
Mix together 1 cup very hot tap water, 6 tablespoons of sugar and 2 teaspoons of kosher salt.
Stir until the sugar dissolves into the liquid.
Pour over fennel, cover and refrigerate for 4 days.
For the pears:
Melt the butter and mix together with the honey.
Pour over the Forelle pears and bake in a pre-heated 325 degree Fahrenheit oven covered with foil, until cooked through, basting frequently, about 40 minutes.
For the walnuts:
Make a simple syrup by combining 1 cup sugar with 1 cup water, and bringing to a simmer.
Add the walnuts and simmer for 5 minutes.
Strain the walnuts from the syrup, then deep-fry them in 375 degree Fahrenheit oil for 3-5 minutes until crisp.
For the quince vinaigrette:
Place 2 ounces of the membrillo quince paste into a blender with 2 tablespoons water and ¼ cup sherry vinegar.
Blend, then incorporate ½ cup extra virgin olive oil, salt and fresh ground black pepper.
Cut the remaining quince paste into 1/3 inch cubes.
To serve: Place the warm pears on 4 plates, and then place the fennel wedges, figs, quince cubes, goat cheese and walnuts on the plates.
Top with the spicy lettuce and drizzle quince vinaigrette over the salad.
Published on by Susan Irby