Zucchini Noodles with Creamy Avocado Pesto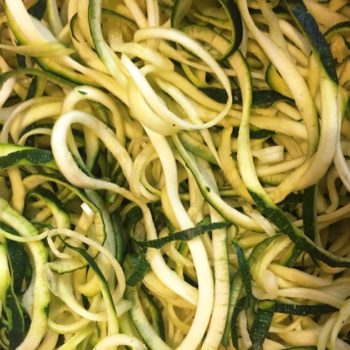 Family Fun Returns to the Kitchen!
Did you know? Since the 1960's and beyond, cooking at home has been on the decline. Among the reasons, people, in general, say they are too busy! Of course, everyone is busy these days… smartphones, smart tablets, digital games, social media sites all eat up valuable time and that's before we get in a good workout and do some grocery shopping.
Recognize that eating out, however, wreak havoc on the body. When packaged and restaurant meals are the menu norm, control is lost over what goes in to the food. Consider that most of those convenient foods contain high amounts of sodium, are often cooked using fats high in omega-6 or omega-9 fatty acids, chemical preservatives, and often genetically modified organisms, there is good reason to re-think the daily diet.
Cooking at home can be fun! With a little pre-planning and choosing simple, easy-to-follow recipes, making flavorful meals with healing ingredients will become a fun, stress-relieving activity.

This simple zoodle noodle – that's zucchini + noodle = zoodle – recipe uses ground turkey, a little diced onion, healing grapeseed oil, taco seasoning, and zucchini. Buy a small spiral slicer to turn the zucchini in to noodles. Spiral slicers can be found at most home and kitchen stores. Small hand-held slicers like the one I use (the Veggetti) cost about $15 and it works like a pencil sharpener for zucchini. There are other brands of slicers, but for beginners, I recommend keeping it simple… and for the record, I am not getting paid to recommend the Veggetti. It was recommended to me by one of my good friends. I use the "thick" blade for my zoodle noodles.

See recipe below and let me know how it turns out!
Nutrition:
Serving size: about 1 healthy heaping cup
Calories: 504
Fat: 36.5g
Saturated fat: 8.1g
Cholesterol: 87mg
Sodium: 405mg
Potassium: 1493mg
Carbohydrates: 23.3g
Fiber: 10.0g
Sugars: 5.5g
Protein: 29.5g
Zucchini Noodles with Creamy Avocado Pesto
Recipe type: Yield: 6 Prep time: Cook time: Total time:
---
Zucchini noodles are tossed with seasoned ground turkey and fresh
Ingredients:
8 medium zucchini

1 tablespoon grapeseed oil

½ medium white onion, diced

1 pound ground turkey

1 packet taco seasoning

3 large avocados

1 cup fresh basil leaves

1 clove garlic

2 tablespoons fresh lemon juice

½ teaspoon sea salt

1 teaspoon white pepper

1 tablespoon olive oil
Directions:
Using a "zoodler" (spiral slicer), make zucchini spaghetti and place in a large mixing bowl.
Fill a large stockpot ¾ with water and bring to a boil.
Add zoodle noodles and cook about 2 minutes, drain and set aside.
Heat grapeseed oil in medium skillet over medium heat.
Add onion and saute about 1 minute, then add turkey and taco seasoning and cook until cooked through, about 5 minutes.
Remove from heat and set aside.
In a food processor, puree avocado, basil, garlic, lemon, sea salt, and pepper.
Add cooked ground turkey, avocado mixture and olive oil to the zoodle noodles, toss well to coat evenly and serve.
Vegan? Skip the turkey, use ½ packet of taco seasoning.
Published on by Susan Irby