Radiant Health Coconut Macaroons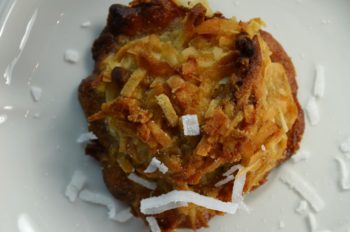 Filled with ingredients for positive general health, this recipe is also great for long distance and high endurance sports training. The coconut, cinnamon, maple syrup and maca root give near instant energy for both before and after intense workouts and also stimulate the flow of blood circulation – important for optimal training and performance.
Not in training? Enjoy one of these tasty macaroons as the perfect afternoon pick-me-up snack!
In this recipe, egg whites, coconut, maple syrup, and maca root powder combine with lemon zest and cinnamon for a delicious macaroon that promotes radiant health. As well, coconut has anti-viral properties, maca root stimulates the endocrine system, egg whites provide a touch of protein, cinnamon not only tastes good but is great for improving circulation and a natural anti-inflammatory. What makes it sweet? A lotta love and maple syrup which is one of the best natural sweeteners around.
Whip the egg whites until they just come together, fold in the other ingredients and place by spoonfuls onto a parchment lined baking sheet and bake for about 12 minutes. Let them dry completely before storing. Or, serve them immediately after cooling.
Nutrition:
Serving size: 2 macaroons
Calories: 132
Fat: 7.8g
Saturated fat: 6.9g
Cholesterol: 0.0mg
Sodium: 56mg
Potassium: 161mg
Carbohydrates: 14g
Fiber: 2.6g
Sugars: 10.4g
Protein: 2.2g