Halloween, the season of childlike ghoulish fun. Try making this fun, healthier Halloween candy treat with your kids. Fresh banana, shredded coconut, white chocolate, a few sunflower seeds and chocolate chips and a few other simple ingredients are all you need for these tasty snack or dessert pops.
A few tips for the perfect pop:
1) Melt white chocolate in a double boiler. Add a 1/2 tablespoon shortening for a smoother chocolate that is less likely to seize up. Alternatively, melt in the microwave by heating in 15 to 20 second increments.
2) Lollipop sticks are available at most grocery stores in the baking section. When attaching the banana pieces, guide the banana onto the lollipop stick carefully or banana may split. 🙂
3) When rolling the banana in chocolate, use a spoon or other utensil to help roll the banana and keep it firmly on the lollipop stick.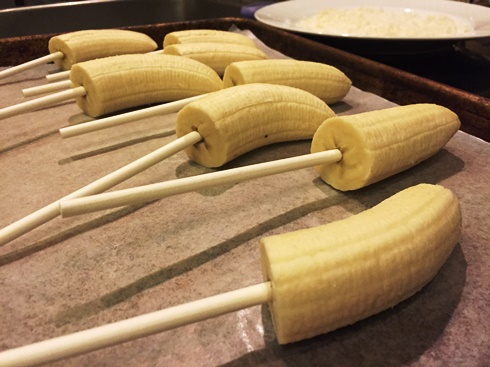 Nutrition:
Serving size: 1 ghost or monster pop
Calories: 99
Fat: 5.0g
Sodium: 25mg
Carbohydrates: 18g
Sugars: 16g
Protein: 1g In this calorie-slashing collection, The Bikini Chef® Susan Irby offers recipes for switching up ingredients that keep calories to a minimum. Complete with serving-size suggestions and "Skinny Secret" shortcuts to trim calories in little ways, here you'll get expertly crafted recipes that include offerings for every meal of the day!
Books by The Bikini Chef®:

The Bikini Chef® Diet
Substitute Yourself Skinny
Boost Your Metabolism
The Complete Idiot's Guide Quinoa Cookbook
The Clean Separation
$7 Healthy Meals
$7 Quick and Easy Meals
$7 Pressure Cooker Meals
Cooking With Susan : Southern Family Favorites