Gluten-Free Donuts : Maple Frosted and Vegan, too!
Prime baking season is here! But, for those who love to bake, it's always baking season. Not too long ago I received the delightful book on baking by Cara Reed. Cara's book, however, is not only on baking… every recipe is gluten-free and vegan. Why everything gluten-free AND vegan, I wondered? Intrigued, I called Cara to ask her!
"Cara," I asked, "why the passion for gluten-free and then subsequently vegan?" And thus, her story began to unfold. Cara explained that ever since she was a kid that she often felt sick. Sick to her stomach, bloated, and just overall uncomfortable. Then, about 3 years ago, that uncomfortableness and sick feeling became worse. She saw doctor after doctor and was always misdiagnosed. "I then went to see a food allergist," shares Cara. "The food allergist said I was most likely allergic to dairy." But, Cara suspected she was gluten intolerant, too, because she felt so ill. So, off to visit yet another doctor she went. It took 3 doctors and a food allergist for Cara to finally connect their input with her own research and determine that she was not chronically ill – she was, in fact, allergic to gluten and dairy.
Cara's revelation was so inspiring that her blog, ForkandBeans.com, was born. "I had been wanting to start a blog, but I had no idea what to write about," she explains. "And then, suddenly, it became very clear to me that I needed to blog about gluten-free vegan foods. There was such a need for it and it's my passion; it's my life."
Many of you will agree with me that gluten-free baking doesn't always come out dreamy. Layer on top of that vegan, and you can often get a whole 'nother layer of blandness. So, I had to ask… "Cooking gluten-free, especially baking, and vegan is a tall order," I shout. "Did you study how to do it or learn on your own?" To which Cara laughs and says, "I'm an avid baker. Crying on the kitchen floor just didn't make any sense. So, I vowed to figure it out. How to make my favorite baked goods and how to make them taste good – gluten-free and vegan."
Now… I am not an avid baker. I have no intolerance to gluten. I do avoid dairy whenever possible, which is most all of the time, except in the middle of summer when I need my vanilla bean ice cream fix. So, I decided I would choose one recipe from Cara's Decadent Gluten-Free Vegan Baking Cookbook to make. Let's just say I am in awe of Cara. Some gluten-free vegan recipes that I have tried from other sources have turned out like flavored cardboard or with the texture of a moist brick. You can imagine my delight when my version of Cara's donuts wowed crowds. Here's what I did:
For my recipe, I chose, Brown Sugar Mini Donuts (page 65). I love donuts. Next to ice cream, donuts are my kryptonite. And popcorn. Okay, I'll stop there. I love donuts. And the full color photographs in Cara's cookbook look so inviting, I just had to have one. Cara's recipe begins with Cara's All Purpose Blend flour which is superfine brown rice flour (check), superfine sorghum flour (not-checked), potato starch, not flour (check), and arrowroot powder (check). I was able to find all of the ingredients except the sorghum flour at my local grocery store. Perplexed, I muddled through my kitchen cabinets to find a gluten-free vegan flour mix that featured similar ingredients as Cara's blend and no preservatives. Delighted, I used that instead of stressing over sorghum. And, as a side note, Cara's recipe calls for xanthan gum, which was also found in my GF "mix". Next challenge? Egg-replacer. Cara suggests using the Ener-G Egg Replacer which does not exist at my local grocery store. So, I decided I would substitute chia seeds soaked in water. They are binding, right? All of the other ingredients were straight forward… brown sugar, vanilla extract, baking powder and vegetable oil among them. I decided to replace the vegetable oil with healthier melted coconut butter which, unlike vegetable oil, retains its nutritive benefits when heated.
Next hurdle? Finding a donut pan. Who owns a donut pan? Not any of my friends and neighbors anyway. Sure, I could drive 20 minutes to a fancy store and probably buy one but instead I tried more practical stores like Target, Michael's, my local grocer, friends and neighbors with no luck. No donut pans anywhere and most people had never heard of one. For the record, had I been able to find a donut pan two weeks ago, this recipe would have been posted sooner. Hmmmm, what to do? Improvise! I purchased some inexpensive baking cups, wadded them up in a ball and had my friend hold the ball in the center of a muffin tin while I filled the muffin cup with batter.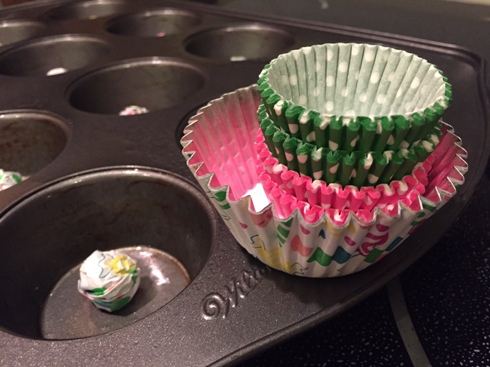 Sounds silly but it was fun and it worked just fine!


The result? Delicious, baked, brown sugar donuts. Thanks, Cara!

Now for the frosting…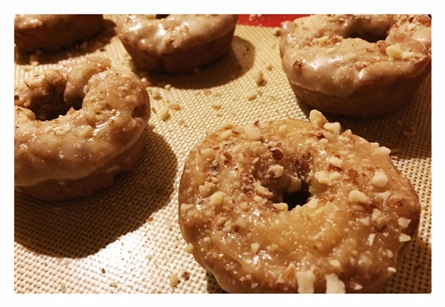 For the record, Cara has a recipe for chocolate frosting, too! I chose the maple version.
I have not tried other recipes from Cara's book yet, but 'tis the season for baking! Included in Cara's book, Decadent Gluten-Free Vegan Baking Cookbook are: Pumpkin Cupcakes, Key Lime Cheesecake Bars, Rosemary Beer Bread "Cupcakes", Sweet Almond Braided Bread, Maple Nut Scones and more incredible Cara' tested and perfected recipes. She also included super helpful GF baking tips and hints at the end of the book along with important, easy-to-follow substitutions for eggs, flours, and more.
One commonly asked question of me when it comes to GF baking is how to keep the recipe moist. Cara's answer, "the amount of liquid needs to increase because the flour absorbs too much. An egg replacer will help or a fruit or vegetable puree." Pureed steamed broccoli, perhaps?! Next time. 🙂
When asked what keeps Cara motivated, she states, "I want people to have a place to go to get questions answered and feel hopeful again. If I can make it easier to help someone feel better and feel good, I've succeeded." For more Cara recipes and tips, visit her at: ForkandBeans.com
Nutrition:
Serving size: 1 donut
Calories: 265
Fat: 12.6g
Saturated fat: 8.1g
Cholesterol: 0mg
Sodium: 180mg
Potassium: 122mg
Carbohydrates: 38.5g
Fiber: 2.0g
Sugars: 25.2g
Protein: 2.1g
Cara's All Purpose GF Blend:
Makes 9 cups
3 cups superfine brown rice flour
3 cups superfine sorghum flour
1 1/2 cups potato starch (not potato flour)
1 1/2 cups arrowroot powder
With a spoon, scoop the flours into a measuring cup. Level with a knife and throw everything into a gallon-sized plastic baggie, seal tightly, and shake vigorously until well combined. Store in an airtight container.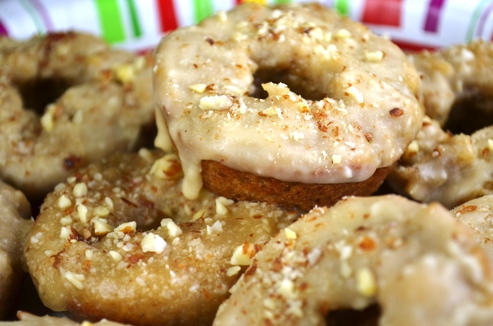 In this calorie-slashing collection, The Bikini Chef® Susan Irby offers recipes for switching up ingredients that keep calories to a minimum. Complete with serving-size suggestions and "Skinny Secret" shortcuts to trim calories in little ways, here you'll get expertly crafted recipes that include offerings for every meal of the day!
Books by The Bikini Chef®:

The Bikini Chef® Diet
Substitute Yourself Skinny
Boost Your Metabolism
The Complete Idiot's Guide Quinoa Cookbook
The Clean Separation
$7 Healthy Meals
$7 Quick and Easy Meals
$7 Pressure Cooker Meals
Cooking With Susan : Southern Family Favorites