Grilled Okra and Vegetable Skewers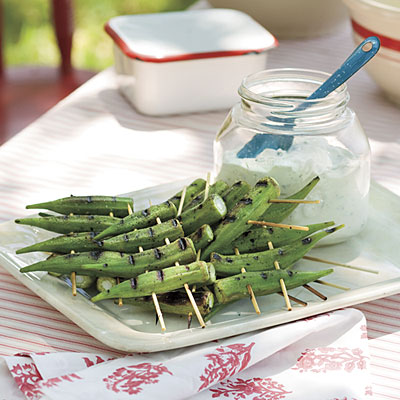 Tomatoes and onion are threaded onto skewers with fresh okra, glazed with a special sauce and placed on a hot grill. An easy and creative way to serve fresh okra, these skewers are delicious as a side dish to grilled chicken or steak.
Turn this side dish into a vegetarian entree by adding additional vegetables such as red, yellow, and orange bell peppers, mushrooms, and zucchini.
Nutrition:
Recipe serves 8. Serving size: 1
Calories: 98
Fat: 3.0g
Cholesterol: 0mg
Sodium: 251mg
Potassium: 781mg
Carbohydrates: 16.4g
Fiber: 5.3g
Sugars: 8.5g
Protein: 3.5g
This recipe is a good source of fiber, vitamins A and C and calcium and iron. In this calorie-slashing collection, The Bikini Chef® Susan Irby offers recipes for switching up ingredients that keep calories to a minimum. Complete with serving-size suggestions and "Skinny Secret" shortcuts to trim calories in little ways, here you'll get expertly crafted recipes that include offerings for every meal of the day!
Books by The Bikini Chef®:

The Bikini Chef® Diet
Substitute Yourself Skinny
Boost Your Metabolism
The Complete Idiot's Guide Quinoa Cookbook
The Clean Separation
$7 Healthy Meals
$7 Quick and Easy Meals
$7 Pressure Cooker Meals
Cooking With Susan : Southern Family Favorites