Recipe Type: Side Dish
Prep time: 15 mins
Cook time: 40 mins
Total time: 45 mins
Serves: 6-8
Fresh rosemary and thyme bring life to roasted new potatoes and extra virgin olive oil. Perfect as a side dish to grilled protiens like steak, chicken, and fish.
2 lbs new potatoes, rinsed & quartered
3 Tbsp Herb Oil, recipe below
2 garlic cloves, minced
pinch sea salt
pinch fresh ground black pepper
Preheat oven to 375*. Line a baking sheet with parchment paper.
In a large mixing bowl, toss potatoes with oil, garlic, salt and pepper.
Spread potatoes on baking sheet and bake for 40 to 45 minutes or until fork-tender and appear to have a roasted color.
To prepare Herb Oil:
3 cups olive oil
1 tablespoon chopped fresh rosemary leaves
1 tablespoon chopped fresh thyme leaves
Combine olive oil with rosemary and thyme in a small saucepan over medium-low heat and bring to a simmer. Simmer for 5 minutes, paying attention not to allow to boil at all. Remove from heat and let rest for 30 minutes. Place in a bottle or airtight container until ready to use. Store in the refrigerator.
Catch The Bikini Chef® on Bikini Lifestyles "Wine Dine and Workout" on AM 790 KABC radio in Los Angeles Saturday nights, 7pm PT or stream LIVE online at http://www.kabc.com Visit: http://www.bikinilifestyles.com Check your local TV listings for Bikini Lifestyles "Wine Dine and Workout" airings in your town!
The Complete Idiot's Guide Quinoa Cookbook available for pre-order on Amazon.com: http://www.amazon.com/Complete-Idiots-Guide-Quinoa-Cookbook/dp/1615641939/ref=sr_1_1?ie=UTF8&qid=1337916843&sr=8-1
In stores: July 3rd, 2012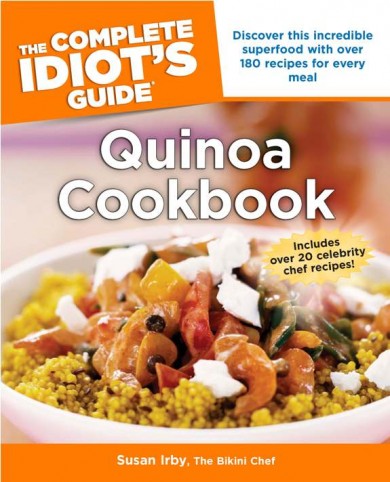 Other books by The Bikini Chef®:
Substitute Yourself Skinny
Boost Your Metabolism
$7 Healthy Meals
$7 Quick and Easy Meals
$7 Pressure Cooker Meals
Cooking With Susan : Southern Family Favorites
In this calorie-slashing collection, The Bikini Chef® Susan Irby offers recipes for switching up ingredients that keep calories to a minimum. Complete with serving-size suggestions and "Skinny Secret" shortcuts to trim calories in little ways, here you'll get expertly crafted recipes that include offerings for every meal of the day!
Books by The Bikini Chef®:

The Bikini Chef® Diet
Substitute Yourself Skinny
Boost Your Metabolism
The Complete Idiot's Guide Quinoa Cookbook
The Clean Separation
$7 Healthy Meals
$7 Quick and Easy Meals
$7 Pressure Cooker Meals
Cooking With Susan : Southern Family Favorites