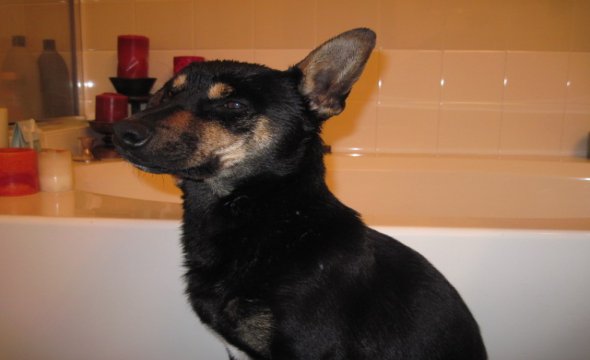 The Pet Rescue Center in Mission Viejo took "Lucky" in and re-named him Reggie!  They patched up his ear and he is all healed and ready to adopt!  They won't allow me to adopt him because I gave them to him, so….   the newly named Reggie is ready for a good, loving home!  He truly is the sweetest dog… great with kids, housetrained, great around other dogs…  Here is the link to Reggie's new glamour photos and information on how to adopt him:
The Pet Rescue Center, Mission Viejo:
http://www.adoptapet.com/pet5815304.html
When I drove to Los Angeles this morning to do my first LIVE broadcast of Bikini Lifestyles on 790 KABC, a little voice inside me casually spoke and said "today is going to be a different kind of day".  I, of course, tossed it off as a feeling of excitement for doing my show LIVE.  As many of you know, my co-hosts and I usually pre-record the shows but that's another story for another day.
I arrived at KABC at a very early 5:30am and immediately upon getting out of the car, I had a sneaking suspicion my day was about to become more than just a simple Memorial Day weekend Sunday that began chatting on the air with my friend Mar Yvette, or Marpop as everyone knows her.  As I walked to the KABC entrance, two beautiful bronze eyes caught my attention and I noticed the sweetest, saddest looking puppy dog trying to stay warm amongst the ice plant.  As I approached and lightly called out to him, he shied away from me but still I was drawn to him.  Not having the time then to spend with him, I thought if he were still nearby after the show, I would take a closer look.
Sure enough, an hour later, there was the cute, sad puppy dog limping across the parking lot.  Mar and I decided to call a few rescue groups but on a holiday Sunday morning at 7, our calls fell to voice messages.  The dog then disappeared but as we were driving to the exit, we saw the desperate dog once more.  Our hearts stopped and so did our cars.  We found ourselves coaxing the little guy who was at first hesitant, but then limped over and placed his head in my palm.  It was at that moment I knew I could not leave him.
I'm sure any well-experienced dog rescuer would flash major warning signs in front of my face citing "he may bite you", "he may be infested with disease", "he may have fleas, ticks, rabies" or any number of warning signs, but my instincts told me to pick him up, take him home, give him a bath, feed him, and show him love and that's exactly what I did.  He did not bite me, he showed no signs of fleas or ticks or disease, he made no sounds, all he did was look at me with adoring grateful eyes as if I were an angel sent from heaven just for him that day.
He walks with a limp because of an obvious sore back left leg.  His left ear is broken.  I didn't know ears could break, but it looks as if his will flop permanently.  His left ear is also packed with dry blood from a viscious car accident or dog attack.  We will never know.  But the one thing I could determine without a doubt is that this dog has a sweet, sweet heart and deserves another chance at life.
I stopped at McDonald's and got him a sausage and egg biscuit and some ice water.  He drank nearly all the water and gently and politely ate each bite of egg and sausage I gave him.  He then curled up on the floorboard for our journey home.
My husband and I already have two dogs but I was less concerned about my dogs' reaction as my husband's.  Grateful my husband was sleeping in, I quickly escorted the new found dog upstairs and gave him a much needed bath.  Still not a sound he uttered, but he shook to dry himself shaking wet red spatters all over the bathroom from the residual blood from his ear.  Yikes! I hadn't expected that so I went to work fast as I could to make the walls white again all while the little dog sat there staring at me in wonder.  He gracefully allowed me to treat his torn ear with peroxide, still not a sound.  This dog clearly has a heart of gold.  Next order of business, to tell my husband.
My husband is a kind hearted man and it was his kind heart I was betting on to show up this morning.  My neighbor loaned me a baby gate to keep my dogs separate from this new found friend and that was the first thing my husband saw when he rounded the corner.  "What's that?" he asked.  "Ummm, I did something this morning and Lisa loaned it to me," I replied.  I asked him to go on into the bathroom to see what I had done.  To my surprise, he only said, "We can't keep him."  With relief, I explained that it was not my intention to keep him but only to save him and find him a home.
It's been a few hours now and Lucky, as we have so named him, is wagging his tail, begging for loving, gentle pets, playing with our dogs, and serenly napping… just as any dog would do on a Sunday afternoon.  He does need a permanent home but at least he can sleep with both eyes closed in the comfort of a clean blanket, a warm, dry house, and fresh food and water to enjoy.
If you would like to invite Lucky into your loving home, please email me at susan@thebikinichef.com.  He is a sweet, sweet dog with a heart of gold who will make a great addition to your family.