Seasons 52 Introduces New Summer Menu on June 19
Seasons 52 is at it again.The dynamic team of Executive Chef and senior Culinary Director Clifford Pleau and Master Sommelier George Miliotes have joined forces for an unforgettable Summer menu dining experience. Nothing on the menu at Seasons 52 is more than 475 calories… that includes BBQ Chicken Flatbread, Chilled Lobster and Shrimp Spring Rolls, and even the Blueberry New York-style Cheesecake. Chef Pleau and his team accomplish this taste-bud tantalizing #SOBikini menu through the freshest ingredients surrounded by the seasons, hence their name, Seasons 52 which celebrates the year's four seasons, 52 weeks of the year. In Southern California, dine at Seasons 52 at South Coast Plaza. Out of so Cal? Visit Seasons52.com for locations around the USA.
Here is what's new for Summer at Seasons 52 South Coast Plaza and around the country:
*Watermelon Refresher Cocktail ~ as refreshing as its name, kick off your evening with this light and sexy cocktail featuring the very sexy Enrique Iglesias' light rum
*BBQ Chicken Flatbread ~ glazed BBQ chicken, balsamic onions, sliced scallions, and melted Parmesan cheese sit atop a perfectly thin, crisp crust that is baked in a cast-iron skillet in a 650* oven to achieve that crispy to-die-for crunch. The housemade BBQ sauce by Chef Pleau really sets this flatbread apart from other restaurant-style BBQ chicken pizzas.
*Artichoke and Goat Cheese Flatbread ~ fresh leaf spinach, balsamic onion, and roasted peppers. A menu favorite during all four seasons at Seasons 52
Master Sommelier George Miliotes wine pairing~ Avekeda Vinho Verde, Portugal '10 and '11 a slight effervesence, crisp finish for crisp flatbread
*Chilled Lobster and Shrimp Spring Roll ~ cool and smooth, good health oozes from this specially made spring roll served with sauce trio of: cool salsa verde made with fresh tomatillos, aromatic lemongrass, and spicy, sweet-hot red chili
Master Sommelier George Miliotes wine pairing ~ Hirsch #1 Gruner Veltiliner, Kamptal '09 '10
*Organic Arugula Salad~ served with a wedge of MS George Miliotes favorite fresh watermelon, arugula greens are accented by shredded jicama, grilled golden beets, goat cheese, and toasted pistachios. One of my personal favorites on the new menu, this salad is as pleasing to the #SOBikini palate as it is to the eye.
*Summer Vegetarian Tasting ~ this vegetarian sampler platter is so "meaty" even non-vegetarians will be placing their orders. Featuring "grains of life" quinoa (a The Bikini Chef personal favorite), farro, and soft taco with black beans, roasted peppers, mushroom medley stuffed chili relleno, grilled vegetables, spiced cedar plank roasted tofu, and mango chutney
Master Sommelier George Miliotes wine pairing ~ Honig, Napa '11 another crisp, refreshing white wine hand-selected by MS George Miliotes
*Wild Alaskan Copper River Salmon ~ boasting a higher percentage of omega-3's than farmed salmon, Copper River salmon is only in season a few weeks of the year. Here, Chef Pleau captures the beauty of salmon by fire-grilling and serving with a delicate corn risotto, fresh asparagus, roasted pepper, and dill sauce
*Piedmontese All-Natural Bone-in Strip Steak, 11 ounces ~ tasty enough to make a vegetarian come to the dark side. Served with a red wine reduction and cremini mushroom sauce, your tastebuds will soar straight to the heart of Italy where this beef is from. Even at 11 ounces, this dish is under 475 calories. Piedmontese beef is leaner than other beef, up to about 25% leaner.
A personal note from Executive Chef and senior Culinary Director, Cliff Pleau: "We are extremely excited to introduce our guests to the Piedmontese All-Natural Bone-In Strip Steak on our summer menu. A unique offering for steak lovers to enjoy, Piedmontese beef is tender, flavorful and lean," shares Chef. "Named after a breed of cattle originally found in the Piedmont region of northern Italy, Seasons 52's Piedmontese beef is range-raised in Nebraska and grass-fed with an all-natural diet. Served "steakhouse style" to capture the true essence of beef."
Master Sommelier George Miliotes wine pairing~ Markham Cellar 1879, Napa '10 a bold but not overdone newly released red wine from established and notable Markham Cellars
*New York-style Berry Mini Cheesecake Indulgence ~ cheesecake, fresh blueberries, raspberry sauce and graham cracker crumbs Seasons 52 mini indulgence' don't dissapoint. My personal favorite, Key Lime, is available all four seasons as are the Peanut Butter, Pecan Pie, and Lemon.
Master Sommelier George Miliotes wine pairing ~ Jam Jar Moscato 2011 Master Sommelier George Miliotes has added this incredible new wine to his "Drink These Before They Become Famous" list. Jam Jar Moscato 2011 Western Cape-South Africa joins Miliotes' handpicked selection of must-try wines for the season. "Jam Jar Moscatois a refreshing and approachable wine for summer," said Miliotes. "With flavors of peach, apricot, lychees and orange blossom, it is a perfect balance between sweetness and acidity."
In addition to these Summer menu items and the Piedmontese Bone-In Strip Steak, guests will delight in other new summer menu items through mid-September, including:
*Organic Tomatoes with Warm Crusted Mozzarella– organic tomatoes and warm-crusted mozzarella, micro greens, basil, pesto vinaigrette
*Grilled Jumbo Shrimp Cavatappi Pasta – caramelized garlic, organic tomatoes, fresh broccoli
Where: Seasons 52
South Coast Plaza
3333 Bristol Street Suite #2802
Costa Mesa, CA 92626
714.437.5252
www.seasons52.com
Hours: Open daily for lunch and dinner
Sunday – Thursday 11:00 a.m. to 10:00 p.m.
Friday and Saturday open until 11:00 p.m.
About Seasons 52
Seasons 52, which debuted in 2003, is a fresh grill and wine bar that provides guests with a fresh dining experience, enabling them to celebrate living well. The menu is orchestrated by award-winning Chef Clifford Pleau, and is inspired by the seasons and the fresh appeal of the farmers' market – 52 weeks a year. The award-winning wine list created and developed by Master Sommelier George Miliotes – one of over 180 Master Sommeliers worldwide – is consistently praised for its diverse international selection of 100 wines, including more than 52 offered by the glass. Seasons 52 is recognized as a forward-thinking restaurant concept that is "right for the times" and always offers guests something new to discover.
Seasons 52 currently operates 23 restaurants in 13 states across the country and will open additional restaurants in Santa Monica (Ocean and Broadway), and Los Angeles (Century City), Calif., as well as Dallas (NorthPark Center), Texas in autumn 2012; Houston (Westheimer), Texas, Sacramento (Arden Fair Mall) and San Diego (Westfield UTC), Calif., as well as Edison (Menlo Park Mall), N.J., in spring 2013; Memphis (Crescent Center), Tenn., in autumn 2013; and Princeton (MarketFair), N.J., in spring 2014. For more information, please visit Seasons52.com, or find us on Facebook and Twitter/@Seasons52
Catch The Bikini Chef on Bikini Lifestyles "Wine Dine and Workout" on AM 790 KABC radio in Los Angeles Saturday nights, 7pm PT or stream LIVE online at http://www.kabc.com Visit: http://www.bikinilifestyles.com Check your local TV listings for Bikini Lifestyles "Wine Dine and Workout" airings in your town!
Purchase books by The Bikini Chef:
The Complete Idiot's Guide Quinoa Cookbook available for pre-order on Amazon.com: http://www.amazon.com/Complete-Idiots-Guide-Quinoa-Cookbook/dp/1615641939/ref=sr_1_1?ie=UTF8&qid=1337916843&sr=8-1
In stores: July 3rd, 2012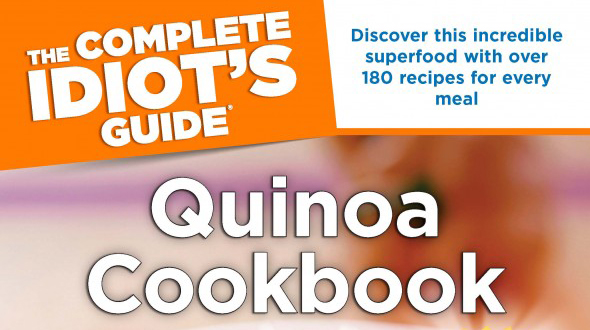 Other books by The Bikini Chef:
Substitute Yourself Skinny
Boost Your Metabolism
$7 Healthy Meals
$7 Quick and Easy Meals
$7 Pressure Cooker Meals
Cooking With Susan : Southern Family Favorites
Follow The Bikini Chef: