Swimsuit Season : Best Swimsuits for Your Body Type
by Susan Bodack, Director of Social Media Marketing at InStyleSwimwear.com, a Philadelphia-based online retailer specializing in fashion-forward designer swimwear, beachwear and accessories. Follow them on Twitter and Instagram at @InStyleSwimwear!
Spring is officially here, which means summer and swimwear weather are right around the corner! Although a healthy lifestyle is super important for looking good in a swimsuit, it's not everything. In order to really maximize your look, it's important to choose swimwear styles that work for your specific body type. Follow this Swimsuit Season Style Guide featuring swimsuit tips from InStyleSwimwear.com and slimming health, nutrition tips and recipes from The Bikini Chef®, and you'll look your absolute best this season!
Bottom Heavy/Triangle Shapes
For women who are smaller up top and fuller on the bottom, the key is to choose swimwear styles that will help balance you out. Opt for darker colored bottoms and a busier top (think fringe, ruffles or busy prints). This combo will help emphasize your top half and draw eyes upward. Featured swimsuit L Novelties
Top Heavy/Inverted Triangle Shapes
If you're fuller up top and smaller on the bottom, the same style rules apply… but reversed! Opt for supportive swimwear styles in darker hues paired with busier bottoms. Keep in mind that halter tops and underwire tops offer the best support for the "girls." Featured swimsuit Sayulita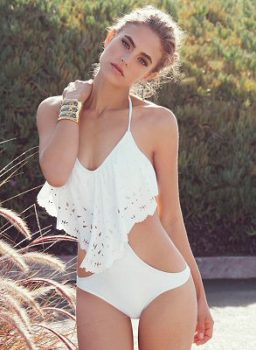 Non-Curvy/Rectangle Shapes
For gals who have straight, non-curvy body types, look for swimwear styles that will create the illusion of curves. For bikinis, a solid twisted bandeau top paired with a printed hipster bottom will create a curvy overall look. For one-piece wearers, try a monokini (one-piece swimwear style with side cutouts). Featured swimsuit Coconut White Monokini
Curvy/Hourglass Shapes
The last shape we'll touch on today is for all the curvy and hourglass-shaped ladies out there! Go for swimwear styles that don't add or detract from your natural curves. For example, stay away from string tie-side bottoms; the super skimpy sides will make your hips look wider than they really are. Try solid + solid or print + print in halter + scoop bottom swimwear silhouettes. Featured swimsuit (a The Bikini Chef® favorite) Deep Sea Swim Dress
No two women are shaped exactly alike, so we could really go on and on when it comes to body shapes and styles! Just keep these swimwear tips in mind and choose a style that makes you feel great, inside and out!
For Susan's top "Belly Bloat Busting" recipes and tips, visit this week's Swimsuit Season Style Guide at InStyleSwimwear.com