FATflammation by Lori Shemek, PhD
Shrink the body's fat cells for quick, lasting weight loss…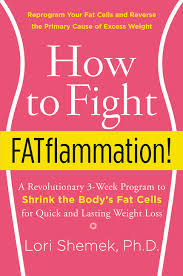 I am proud to announce my friend and colleague, Dr. Lori Shemek, has a revolutionary new book from Harper Collins going on sale April 28th that addresses what so many of us struggle with on a daily basis – weightloss. Through her many years as a coach and teacher helping people lose weight, Dr. Lori has seen time and again that endless hours of exercise and fad diets don't work because they fail to address the root cause of weight gain… inflamed and oversized fat cells.
In her new book, How to Fight FATflammation!, Dr. Lori explains how FATflammation-the chronic inflammation of our fat cells-sabotages our frustrating weight loss battles. Here, she lays out a revolutionary 3 week plan to boost your metabolism and shrink your fat cells back to their natural, healthy state by eating a proper ratio of good and bad fats, choosing specific foods and eliminating inflammatory foods such as sugar, refined grains, and artificial sweeteners from your diet to reprogram your fat cells to behave like that of a lean person.
It IS possible to lose weight, look great, and achieve the optimum health you've been striving for all of these years in only 3 weeks. How to Fight FATflammation! shows you how.
Preorder your copy now: http://fatflammation.com/


Want to try the exclusive FATflammation Smoothie? Register here for the secret code: FATflammation Smoothie
Register, then enter secret code here: http://fatflammation.com/smoothie/

Enter to win your free copy of this fabulous new book on weight loss by Lori Shemek, How to Fight FATflammation! All you have to do is register here: