Run Your Best – Marathon Essentials whether you are a marathoner or not.
Avid runners know that running in comfort is key to your endorphin running experience. From the tip of your toes to the top of your head, the shoes, sports bras and other clothing, running accessories such as pedometers and heart rate monitors all make a difference in how you feel, your performance and can affect the timing of your run.  Fidgeting with your hair, gadgets or worrying about your uncomfortable shoes and other nuisances play a huge role in the running experience.  Whether you are the occasional jogger, the marathoner, ultrarunner or you land somewhere in between, these products may offer some comfort to your running experience:
Hytail Hat by ADActivewear.com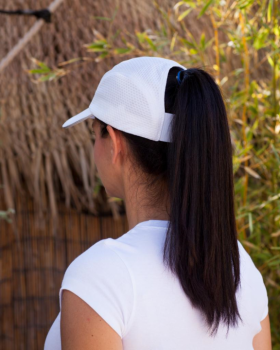 Need to keep that long hair up high and off your neck? Concerned about airflow restricting hats but want to keep your hair up high?  Try the new hat from ADActivewear – the Athletic Hytail Hat.  Its unique design features a wide 2- inch band making it easy to comfortably wear your hair in a high ponytail, with or without a hair band.  With breathable moisture wicking material, the first of its kind hat helps regulate sweat and keep you cool, all while protecting you from the sun.  Available in Black or White, their sleek Athletic line solves the age old dilemma between fashion and comfort, allowing you to look stylish while feeling race ready. 
So before you hit the start line let Hytail ensure that you'll cross the finish cool and comfortable.
The Hytail Athletic Hat retails at just 24.99 and comes in sizes of S/M, M, M/L.  It can be purchased online at www.adactivewear.com.     

Tru-Align Body System by Kacelia
An at-home system designed by a Chicago chiropractor to help ease back, neck and shoulder pain, this foam roller system is structured to help improve posture and alignment. Ideally for use "post-run", manufacturers suggest runners only need to use this 20 minutes a day to begin seeing overall improvement. Not a runner, use the Tru-Align Body system to help improve circulation. (Note: before using any body alignment system, consult your doctor first)
The Tru-Align Body system – $395 Purchase online at www.kacelia.com.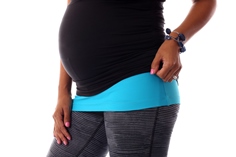 Belly Sport Bra by Bao Bei Maternity
Love to run and are pregnant? Once your doctor gives the "okay", it's true, some pregnant women can still enjoy running. Enter  The Belly Sport Bra.   Great for pregnant runners, the Belly Sport Bra is a modern alternative to maternity support wear, providing expectant women with the comfort and versatility needed by supporting the ab muscles and taking pressure off the lower back.
Created by Susanne Koval, a women's health physical therapist and Pilates instructor, each belly bra is made in the USA and is comprised of a custom blend of colorful luxurious fabric, wicking material and an antimicrobial finish.  Quickly becoming a prenatal powerhouse for pregnancy support wear, the Belly Sport Bra is versatile enough to move from belly to hips or wherever support is needed.

Before running or participating in any exercise during pregnancy, consult your doctor.
The Belly Sports Bra retails for $48.00 and can be purchased online at www.baobeimaternity.com.