Powerful Seeds – Flaxseed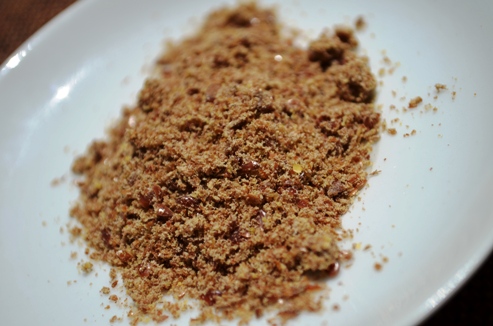 The first in a series of features I will be doing on the nutritional power of seeds, today's spotlight is on flaxseed which is commonly known by other names including ground flax and linseed. Before I get into the nutritional properties of flax, specifically, I'd like to point out that seeds, in general, pack bucket loads of nutrition into their tiny little "capsules". Think of other seeds like quinoa, chia, and even the seeds of blackberries which often go unnoticed. Each of these seeds provide healing powers of nature and I'll be sharing many of those with you here and in future articles.
The flaxseed is from the plant, linum usitatissimum, and has been around for thousands of years. Flaxseed is commonly used in many medicines but there are also non-food grade products that are used in wood finishes, paints and industrail supplies, so purchase flax from food grade sources such as supermarkets and nutritional stores.
Flaxseeds are high in fiber and the omega-3 fatty acid, alpha-linolenic acid (ALA) and they are associated with the alleviation of all kinds of health related conditions including those associated with digestive system, cardiovascular system, weight loss and obesity, reducing inflammation and cholesterol, and they are known to protect against cancers. These seeds are edible whole but when ground fresh, they are digested more easily and thereby have the greatest impact on nutrient absorption. As well, flaxseeds are used in many herbal rememdies and are known to play a positive role in mood an improving symptoms of depression. Yet, according to WebMd, more research needs to be conducted when it comes to improving the risk of heart disease and vegetarian sources when compared to non-vegetarian sources.
As with adding any new ingredient or food to your diet, it is advisable to check with your doctor first, especially when taking medications as flaxseed has been known to interfere with some medications. I am not a doctor, so please, check with your doctor first before consuming.
Easy ways to incorporate flaxseeds into your diet: grind and mix into muffins, all natural pizza crusts, sprinkle on to salads, yogurts, and mix into snack foods like trail mix and granolas.
Due to its high fiber content, flaxseed ranks low on the glycemic index meaning it is good in maintaining blood sugar levels and it is also a good source of vitamin B1, copper, and manganese.
Sources: http://www.webmd.boots.com/vitamins-and-minerals/flaxseed; http://www.whfoods.com/genpage.php?tname=foodspice&dbid=81